Sports
2022 Early Baseball Era Committee Candidate: Buck O'Neil – MLB Sports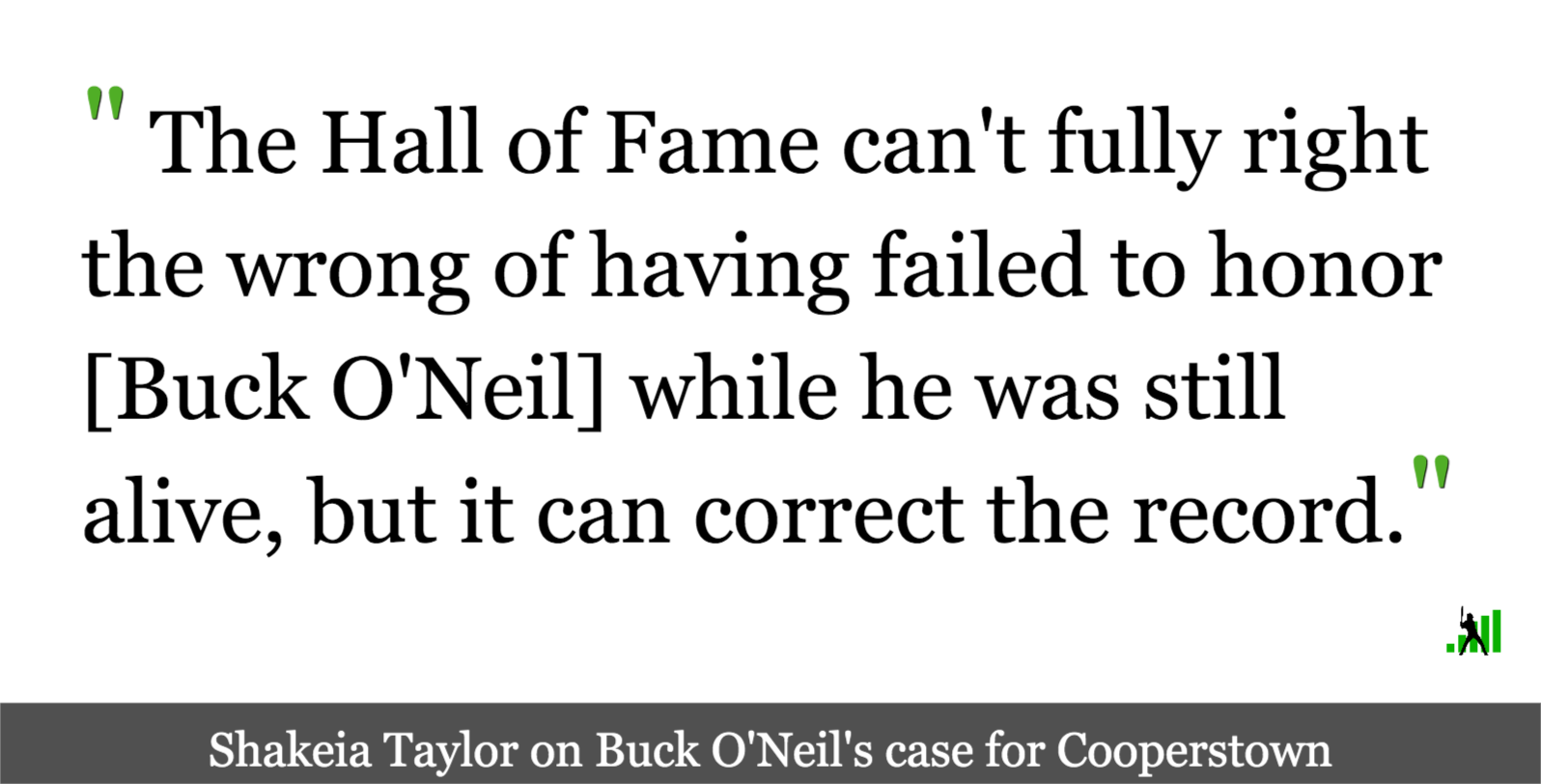 The following article is part of a series concerning the 2022 Early Baseball Era Committee ballot, covering managers and long-retired players whose candidacies will be voted upon on December 5. For Jay Jaffe's introduction to the ballot, see here.
Buck O'Neil
2022 Early Baseball Candidate: Buck O'Neil
| Source | H | HR | AVG/OBP/SLG | OPS+ | WAR |
| --- | --- | --- | --- | --- | --- |
| Baseball Reference (Major Negro Leagues) | 313 | 9 | .258/.315/.358 | 97 | 1.7 |
| Seamheads (All Black baseball) | 351 | 11 | .263/.320/.367 | 104 | 4.0 |
Baseball Reference data covers only play with teams within leagues recognized as majors during 1920-48 period. Seamheads data includes play with independent teams, but not within Latin leagues or exhibitions against white major leagues.
"Among the luminaries on the KayCees team is John O'Neil, who has been acclaimed as the finest fielding and hitting first baseman in Negro baseball." – The Evening News, Harrisburg Pennsylvania, July 1941
In February of 2006, the Special Committee on the Negro Leagues convened to consider 39 candidates from the Negro Leagues and pre-Negro Leagues Black baseball for induction into the Hall of Fame, a final ballot selected from an initial group of 94; Buck O'Neil was among those finalists. But when the Committee announced the results of their work, O'Neil wasn't one of the 17 players and executives elected. O'Neil never got to experience a Major League debut, as his Negro Leagues playing career was ending just as Major League Baseball was integrating. After serving as both a first baseman and manager with the Kansas City Monarchs, he worked as a scout and became the first African-American coach in MLB. In later years, he gained admiration as one of the game's greatest ambassadors and storytellers.
"God's been good to me. They didn't think Buck was good enough to be in the Hall of Fame. That's the way they thought about it and that's the way it is, so we're going to live with that. Just keep loving old Buck. Don't weep for Buck. No, man, be happy, be thankful," he told The Kansas City Star in 1995.
Born in Florida on November 13, 1911, the grandson of a former slave, John Jordan O'Neil, Jr. got involved with baseball at an early age when he accompanied his father, who played on a local team, to the field. Wanting a better life than working in a celery field offered, the younger O'Neil, at the urging of his family, turned to both education and baseball. Despite being unable to attend his hometown Sarasota High School due to segregation, O'Neil earned his high school diploma and received a scholarship to Edward Waters College, a Black school in Jacksonville, where he played baseball and football. After two years, he left to pursue baseball.
O'Neil played for the Tampa Black Smokers, the Miami Giants (he took his nickname from team co-owner Buck O'Neal), the New York Tigers, the Acme Giants, and the Memphis Red Sox in the newly formed Negro American League. On barnstorming teams, there was no official method of transportation and players were responsible for getting themselves around the country. While with the New York Tigers, O'Neil and his teammates traveled the country in two old Cadillacs, until one had to be sold to pay rent and the other broke down. They resorted to hitchhiking and hopping trains.
In 1938, O'Neil tried out for the Kansas City Monarchs and began what became a legendary career. In Kansas City, he played with and against the likes of Leroy "Satchel" Paige, Josh Gibson and "Cool Papa" Bell. From 1939-42, the Monarchs won four straight Negro American League pennants. Newspapers described O'Neil as "king of all first sackers in negro baseball (Leader Telegram, Eau Clair, Wisconsin, 1947)" and "one of the league's most dangerous hitters (The Daily News, Davenport, Iowa, 1941)." Though he was known for his contact skills more than his power, O'Neil was a consistent right-handed hitter. He had average speed on the bases but was a smooth infielder, with his defensive contributions at first often bolstering his profile. In 1942, he helped the Monarchs sweep the Homestead Grays in the Negro World Series; he hit .353/.421/.588 across four games and 17 at-bats in the series, notching two triples and six RBI, both of which led Kansas City. The year of the Monarchs' victory over the Grays also marked the first of his three East-West All-Star Game appearances for the West team.
In 1943, O'Neil was drafted by the Navy and his baseball career was put on hold. After a tour during World War II, he returned to the Monarchs in 1946. Considered a clutch hitter, he always seemed to come through with a knock when they needed him. He hit two runs in the Negro World Series that year, but in the sixth game, O'Neil was robbed of a triple and the Monarchs eventually lost the series to Effa Manley's Newark Eagles, a team that included Larry Doby and Monte Irvin among others.
In 1948, Kansas City named O'Neil their player-manager following Frank Duncan's retirement; he managed the team for eight seasons. By the early 1950s, O'Neil was playing less and focused more on managing. As manager though, he still pinch-hit and played first base occasionally. In 1953, per the Great Bend Tribune, he "put himself into 31 games as a pinch hitter and he managed to come through in many instances and finished the campaign with a .476 batting mark which indicated the number of times he came through for his team." There were also times when O'Neil would throw a few innings late when the Monarchs' pitching got thin. In June 1953, when the Monarchs were in Iola, Kansas to play the David Dennis All-Stars, writer Joe Gilmartin noted in his Iola Register column "On Second Thought," "John modestly refrained from mentioning it, but he's done a spot of pitching himself. We recall one game up at Columbia, Mo. last year when he pitched the last five innings and only allowed two runs."
The latter years of his tenure with Kansas City were marked by the league's decline as the impact of integration was felt. The Negro National League folded in 1948, and while the Negro American League (and the Monarchs) survived into the early 1950s, the level of play declined as major league teams plucked the league's best players. Press coverage became spottier, and the statistical record less reliable. (As Bob LeMoine noted in his SABR Bio of O'Neil, "His statistics, like all statistics from the Negro Leagues, are incomplete and often fail to tell the true story. There were so many games in so many places, and O'Neil believed his best games were never recorded. 'I was a .300 hitter, no doubt,' he said.") To survive, the Monarchs began to function as more of a minor league team, discovering young talent to sell to the majors to help the team stay afloat.
Along with his many other team responsibilities as manager, O'Neil shifted some of his attention to scouting and player acquisition. He pointed New York Yankees scout Tom Greenwade in catcher Elston Howard's direction when Greenwade came to scout another player. The Yankees bought Howard's rights for $25,000; he became the Yankees' first Black player and would enjoy a successful 15-year career that included an American League MVP award and 12 All-Star selections. On the advice of Cool Papa Bell, O'Neil traveled to San Antonio, Texas in 1950 to see a young shortstop named Ernie Banks, who Bell had scouted. O'Neil signed him sight unseen ("Cool's word was good enough for me," O'Neil later said in his autobiography, I Was Right on Time, co-authored with Steve Wulf and David Conrads. "Turns out it was good enough for the Hall of Fame."), and after Banks returned from military service in 1953, he dazzled for the Monarchs, aided by O'Neil's mentorship. The Chicago Cubs paid the Monarchs $20,000 for Banks' rights. The man Chicago would come to call "Mr. Cub" would go on to win two National League MVP awards and make 14 All-Star appearances, and was inducted into the Hall of Fame in 1977.
In December 1955, it was announced that O'Neil would be leaving the Monarchs to become a scout for the Cubs. In 1962, the Cubs named him the majors' first African-American coach, though he wasn't given in-game responsibilities and wasn't part of the rotation for Chicago's College of Coaches, which meant he never got a chance to manage the club. He returned to scouting for the team in 1964. After years of success as an advocate for Black players in Chicago, O'Neil returned home to Kansas City, where he joined the Royals as a scout in 1988; he continued to work for the club through the 1990s. Over the course of his scouting career, he signed Lou Brock to his first pro contract and was instrumental in the Cubs drafting Oscar Gamble, who O'Neil discovered playing semipro ball in Alabama. He also scouted Joe Carter and Hall of Fame closer Lee Smith, among others. Those signings, his advocacy on behalf of Howard and his role in Banks' career, his mentorship of Black players, it all served to make his impact felt. It would be the talent that sent him to the majors after all.
A tireless crusader for Negro Leaguers deserving of Hall of Fame recognition, O'Neil helped found the Negro Leagues Baseball Museum and became a voice for the players history had forgotten, even testifying before Congress. The original museum started in a small, one-room office in Kansas City, but O'Neil lived to see a more expansive dream realized. A museum was constructed as part of Kansas City's revitalization of the historic 18th and Vine district and opened in November of 1997; in 2017, the refurbished Paseo YMCA, the site where the Negro National League was founded in 1920, was renamed the Buck O'Neil Research and Education Center, a fitting tribute to a man so committed to the preservation of Black baseball's story.
That commitment found its way to television when, in 1994, O'Neil appeared in Ken Burn's nine-part documentary series Baseball, narrating the segment that highlighted the Negro Leagues, and frequently appearing on-camera throughout the series. His appearance made him something of a celebrity, introducing him to a new generation of baseball fans, many of whom later became invested in his Hall of Fame candidacy. He and Burns worked together to promote the film, even appearing on talk shows, including Late Night with David Letterman. (Burns recently expressed his hope that the Era Committee will vote to induct O'Neil this weekend.)
O'Neil's willingness to share the stories of the Negro Leagues and his contributions to the sport led to him serving as a representative of the Negro Leagues on the Hall of Fame's Veterans Committee from 1981-2000. During his tenure, seven Negro Leagues players were inducted into the Hall (Leon Day, Bill Foster, Willie Wells, Bullet Rogan, Smokey Joe Williams, Turkey Stearnes, and Hilton Smith).
But O'Neil himself wouldn't be so lucky in 2006. Despite reaching the final ballot from the Special Committee's initial field of 94 candidates, O'Neil fell short of Cooperstown. Writing in the Kansas City Star, Joe Posnasnki — who was already O'Neil's friend, and who would soon collaborate with him on a book — reported, "One committee member said O'Neil likely fell one vote short. The balloting was secret." The notion that he had fallen one vote short was repeated as gospel, even by wire services, but the Hall did not publish vote totals, and non-voting committee chair Fay Vincent maintained that neither he nor anyone on the committee would have specific knowledge of the margin. O'Neil met the moment with incredible grace. Despite not having been inducted himself, he still delivered a heartfelt speech on behalf of the 12 Negro Leagues and pre-Negro Leagues players and five executives who didn't live to see such recognition.
O'Neil passed away later that year, five weeks before his 95th birthday, never having gotten the opportunity to speak for himself at the Hall. In December of 2006, he was posthumously awarded the Presidential Medal of Freedom. In 2008, the Hall of Fame introduced the Buck O'Neil Lifetime Achievement Award, which is presented every three years to "honor an individual whose extraordinary efforts enhanced baseball's positive impact on society, broadened the game's appeal, and whose character, integrity and dignity are comparable to the qualities exhibited by O'Neil."
The statistics he accumulated in the Negro Leagues might be a little light compared to some of his contemporaries — because of the color barrier, his military service, time spent managing, the shoddy record keeping of his later seasons, and a bat that was more solid than great — but O'Neil's pioneering work in the game, and his advocacy for the Negro Leagues and their players as a history worth remembering and celebrating, is Cooperstown-worthy in my mind.
Fifteen years ago, Buck O'Neil fell short of induction. The Hall of Fame can't fully right the wrong of having failed to honor him while he was still alive, but it can correct the record. Buck O'Neil was a player and a manager, a mentor and a pioneering scout and coach. And yes, a Hall of Famer.

– MLB Sports

2022 Early Baseball Era Committee Candidate: Buck O'Neil
https://blogs.fangraphs.com/2022-early-baseball-era-committee-candidate-buck-oneil/ 2022 Early Baseball Era Committee Candidate: Buck O'Neil