Sports
Allison tells Klopp about Burnley's penalty after Liverpool's defeat – Soccer Sports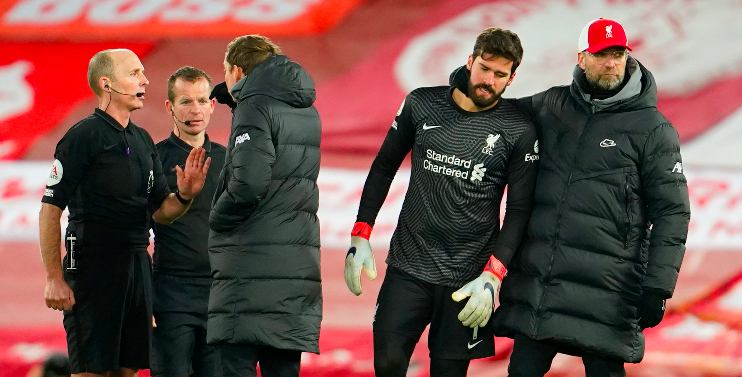 Liverpool manager Jurgen Klopp revealed that Alison felt wrong to penalize Burnley during his shocking victory at Anfield.
Burnley finished Liverpool's 68-game undefeated home run in the Premier League on Thursday with a second-half penalty for Ashley Barnes.
Burns won the spot kick after Alison appeared to have contacted a Burnley player, but Liverpool goalkeeper said he had no contact.
Klopp said:'We had a lot of balls, created some and didn't end the situation. "It keeps the game open and then they get a penalty-Alison told me he didn't touch him, but I didn't get it back."
Liverpool have failed to win five Premier League matches in the middle of the season, six points behind league leader Manchester United.
Klopp added: "We lost a game that was pretty impossible, but we did it. It's my fault. It's my job to make sure the boys have the right feelings and confidence.
"It didn't work. We had a lot of balls and created some good situations, but the final decision is not correct. I said the same thing last week.
"When something goes wrong, you have to work harder, longer, more often, and make better decisions. It didn't work tonight."
Liverpool midfielder Giorgi Nio Wizinal Dam said: Before the game, we had the good intentions of playing against Burnley.
"We made enough to score a goal, but unfortunately we couldn't. We weren't sharp enough and they were penalized." We had a 100% chance. Now , In the situation we are in, it's hard to score. It's hard to explain.
"Outside people will say we're not confident. I think so. You shoot at the keeper, but you may not be 100% greedy to score a goal. there is.
"We have to keep going. We have to do it, not think of tricky moments. The next match is Manchester United and we have to work hard to win."
– Soccer Sports

Allison tells Klopp about Burnley's penalty after Liverpool's defeat
https://livesoccerupdates.com/what-alisson-told-klopp-about-burnley-penalt/ Allison tells Klopp about Burnley's penalty after Liverpool's defeat