Education
Benefits of project-based learning for engineering students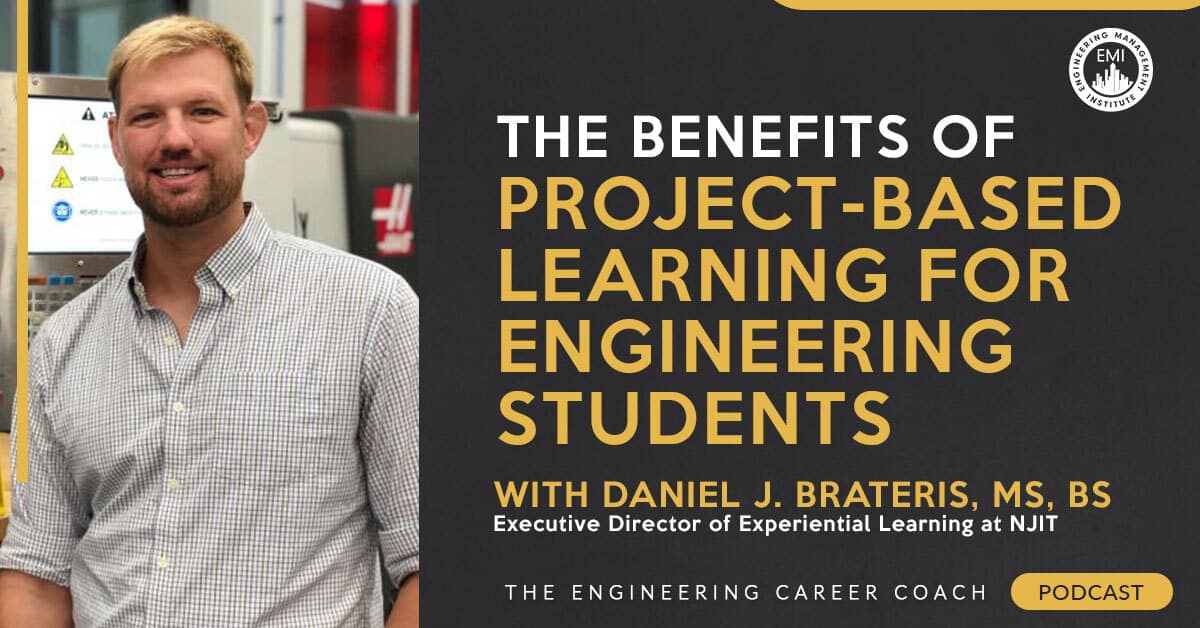 In this episode Daniel J. Brateris, MS, BS, Electrician and engineering educator. Learn how project-based learning for engineering students can help you build relationships, plan your career path, impress your employer, and build additional skill sets.
Engineering quote:
Here are some of the important points discussed here Project-based learning:
Project-based learning (PBL) is a way of trying to structure people's learning by creating projects that are known to guide people on the path to learning those topics.

Project-based learning helps students improve their communication and time management skills, and teaches them to document what they are doing.

The process by which an instructor teaches and learns new ways to restructure the curriculum and makes it still certified and on schedule is a huge challenge.

We have incorporated a central facility called Makerspace, which is fully equipped with full-time engineers and some of our talented and talented students. This space provides a guide for faculty and instructors who will teach you how to integrate specific engineering concepts into your project construction.

When you're on the path to project-based learning, it's important to keep it small and simple. Remember that the first concept may not work as planned. Incorporate and test your ideas, work with what you have and make sure it works for you. The goal is not to start by aiming at the moon, but just to start.

Leaving an engineering education with an engineering degree and a range of skills in project management, manufacturing, and prototyping, you're in a different world than just sitting in the classroom.
Details of this episode …
In the Take Action Today segment of the show, Daniel offers some great advice on how engineering students can get the most out of their first job.
About guests Daniel J. Brateris, MS, BS
Daniel Brateris is an electrical engineer and engineering educator who is currently an executive director of hands-on learning at the New Jersey Institute of Technology and a program coordinator for electrical and computer engineering technology at the New Jersey Institute of Technology (NJIT). Brateris' areas of interest include the impact of embedded product design, design for manufacturing, engineering entrepreneurship, engineering education, and hands-on experience-based learning.
Brateris was educated at Rowan University (BS 2009, Electrical and Computer Engineering, MS 2012, Electrical Engineering). Prior to NJIT, she founded Atlanticus Innovations, a consulting firm specializing in designing designs for LED lighting, wireless communication systems, mobile hardware, software applications, and manufacturing.
About the host, Jeff Perry, MBA
Jeff Perry is a leadership / career coach for engineers, unleashing hidden potential and building ideas, leadership and career intent to remove voluntary career and life obstacles. For years, he has been delighted to support engineers and software professionals, from new graduates to director level. At the forefront of the tech world, he was able to plan the skills needed to become a quality leader in this area.
You can connect with Jeff on LinkedIn. https://www.linkedin.com/in/jeffcperry/ Or visit his website https://morethan-engineering.com.. Jeff also offers a new free on-demand training course for engineers looking for a job or changing jobs.You can see it https://engineeringcareeraccelerator.com.
The resources and links mentioned in this session are:
NJIT maker space
NJIT Newark Institute of Technology
Connect with Daniel J. Brateris on LinkedIn
Mail Daniel Brateris
If you have any questions or comments about project-based learning, feel free to contact us.
Please leave comments, feedback, or questions in the sections below.
For your success
Jeff Perry, MBA
Engineering Career Coach Podcast Host
Benefits of project-based learning for engineering students
https://engineeringmanagementinstitute.org/tecc-279-the-benefits-of-project-based-learning-for-engineering-students/ Benefits of project-based learning for engineering students