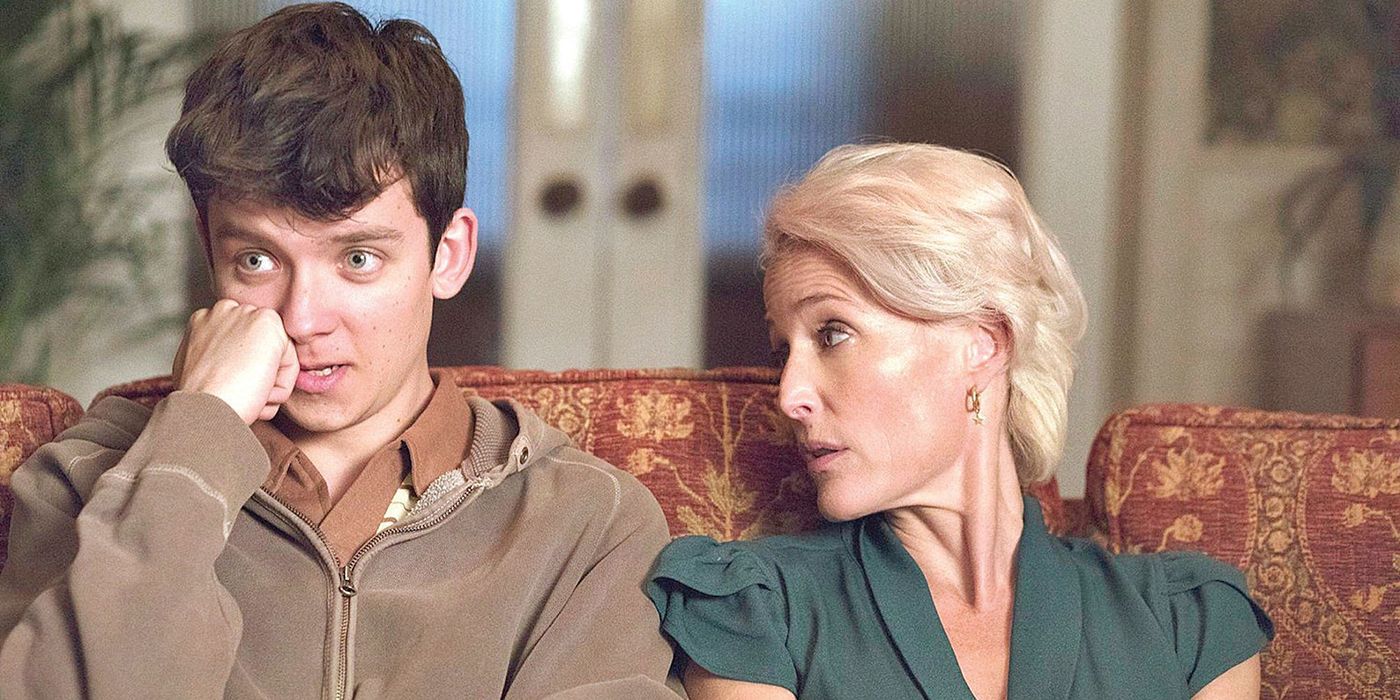 Audiences are on the verge of obsessive behavior when it comes to streaming must-see TV shows in binge-able servings. Peak TV constantly vying for our eyeballs doesn't make it easy when it comes to adding series to our Netflix queue. So, what should you binge? Relax. We got ya covered.
Whether you're looking for a lazy Sunday, a long holiday weekend on the couch, or something to have on in the background, here are 15 essential TV series that all self-respecting fans of the medium should binge. While there's at least a fabillion shows on Netflix gunning for your attention, this mix of classic faves and Netflix originals are plenty to tide you over.
However, if you're fixing for a movie or three to watch, our list of the Best Movies on Netflix Right Now is tailored for you. Or if there's a specific genre of TV you're searching for, you'll definitely find it among the lists below:
Dead to Me
Created by: Liz Feldman
Cast: Christina Applegate, Linda Cardellini, James Marsden
Secrets are poison. They're also sometimes essential (and messy) building blocks to complicated but necessary relationships — at least that's part of the thesis the excellent Dead to Me tries to convey with some of the best writing and performances of the Peak TV.
Liz Feldman's half-hour dramedy is basically the TV equivalent of bite-sized, but each episode packs a feast of rich storytelling as the recently-widowed and very angry Jen (Christina Applegate) slowly befriends an eccentric-but-good-hearted Judy (Linda Cardellini) at a grief counselling group. Jen would rather spend time finding the person responsible for killing her husband in a hit-and-run than do trust fall-y exercises or share her feelings. But emotional catharsis seems like a golden age compared to the truths and lies Jen uncovers and confronts, as her relationship with Judy goes from zero to best friends/accomplices. To say any more would ruin the sincere joy of watching the effortless twists and gut-punch drama unfold. Applegate and Cardellini each deliver career-best work here, with the former's Lead Actress Emmy nom much deserved.
Star Trek: The Next Generation
Created by: Gene Roddenberry
Cast: Patrick Stewart, Jonathan Frakes, LeVar Burton, Denise Crosby, Michael Dorn, Marina Sirtis, Gates McFadden, Brent Spiner, Wil Wheaton, and Whoopi Goldberg
How Star Trek: The Next Generation survived two of the most uneven (and bad) seasons of genre television ever to become an all-timer sci-fi show is nothing short of a mini-miracle.
Credit the late Michael Piller for stepping in as showrunner in Season 3 and steadying the Enterprise-D and her crew on the way to a seven-season run (all in syndication!) that concluded with a Best Drama Emmy nom and one of the greatest and most satisfying series finales in all of television. Patrick Stewart's Captain Picard managed to become as iconic and essential to Trek as his predecessor, Kirk, as Next Gen tackled more character and thematically-driven space-bound drama than The Original Series. But when the show fired phasers and photon torpedoes, it did so with must-see impact. (For proof, watch the classic "Best of Both Worlds" two-parter that pit Picard against his nemesis the Borg, and "Yesterday's Enterprise.") The series also gets credit for achieving a type of world building that was novel then that we take for granted now. It enriched and deepened the franchise by extending the boundaries of the Final Frontier to include complex characters like Worf and his complicated (and almost Game of Thrones-ian) relationship with the Klingon Empire. We also saw the show explore the inner lives of its ensemble (especially Data and La Forge) with the same level of care as it did its space action.
Next Gen isn't a perfect show, but Seasons 3 and 4 are among the most perfect runs of any series. While its "Mission of the Week" structure may feel dated in our increasingly serialized way of binging shows, Next Gen's character-first approach to story — and spectacle — more than hold up.
Star Trek: Deep Space Nine
Created By: Michael Piller and Rick Berman.
Cast: Avery Brooks, Rene Aberjonois, Terry Farrell, Cirroc Lofton, Colm Meaney, Armin Shimerman, Alexander Siddig, Nana Visitor, Michael Dorn, Nicole de Boer, Mark Alaimo
Before Marvel, Star Trek was doing the shared universe thing. From the jump, Star Trek: Deep Space Nine did a crossover in its pilot with Captain Picard sort of passing the torch to the passionate and "man of the body" Cmdr. Sisko (Avery Brooks), reluctantly taking charge of a space station in the ass-end of space to avoid having to grieve the loss of his wife in the battle of Wolf 359 against the Borg — a battle that Picard's Borgified self, Locutus, oversaw. That instant tension in a "no conflict" 23rd Century, coupled with the station-bound drama and action, immediately set DS9 apart from previous Trek incarnations — along with its darker aesthetic and slower burn narrative.
Like Next Gen before it, DS9 suffered a bumpy first two seasons before giving way to a then-almost-rebellious act of serialized storytelling with the introduction of big bads the Jem'Hadar and the Dominion. The ensuing war Sisko and his crew find themselves on the front lines of with one of Trek's most formidable adversaries gives way to mini serialized arcs that rocket to a series finale that makes for a very rewarding and action-packed binge-watch.
Schitt's Creek
Created by: Daniel Levy and Eugene Levy
Cast: Eugene Levy, Catherine O'Hara, Daniel Levy, Annie Murphy, Emily Hampshire, Chris Elliott, and Jenn Robertson
If Arrested Development and Curb Your Enthusiasm had a three-way with Beverly Hillbillies, their offspring would be Schitt's Creek.
Addictive, sweet and hilarious in equal measure, this sitcom has emerged as our favorite Canadian export with a unique and comical family of wealthy celebs forced to relocate to small-town life after they're defrauded by their shifty business manager. While adjusting to life in the titular town, patriarch Eugene Levy and his wife, the exceptional Catherine O'Hara, find themselves in increasingly quirky and comical situations that have endeared them to a fiercely-loyal fan-base.
O'Hara isn't the show's only scene-stealer; Levy's real-life son, Daniel Levy, plays his fictional one on the show and the actor gives each episode the exact amount of whatever it needs to make you laugh. There is not one bad or weak episode of this show — an extra perk to one of the most binge-friendly series out there.
The Office
Created by: Greg Daniels
Cast: Steve Carell, John Krasinski, Jenna Fischer, Rainn Wilson, B.J. Novak, Melora Hardin, Mindy Kaling, Angela Kinsey, Phyllis Smith, Craig Robinson, Ellie Kemper, B.J. Novak, Oscar Nunez, Paul Lieberstein, Amy Ryan, James Spader, and Ed Helms
Netflix's reportedly most popular show is one that wrapped up its network run on NBC in 2013. The U.S. remake of The Office has only gotten better with age, thanks to its effortless blend of meme-friendly humor and heartstring-tugging emotion.
Steve Carell became a star with his iconic role of Michael Scott, the overzealous and mindfulness-immune office manager of a paper company branch in Scranton, PA. This branch is home to a unique mix of characters that would also turn their actors into stars, especially Jim (John Krasinski), Pam (Jenna Fischer), Dwight (Rainn Wilson) and Kelly (Mindy Kaling). The Office is neck-and-neck with fellow sitcom classics Cheers and The Simpsons for having among the best ensemble of characters in TV history, with the office romance between Jim and Pam achieving iconic status among fans and critics. The Office is both essential viewing and comfort food. Bears, beets, Battlestar Galactica forever.
Sex Education
Created by: Laurie Nunn
Cast: Asa Butterfield, Gillian Anderson, Ncuti Gatwa, Emma Mackey, Connor Swindells, Kedar Williams-Stirling, Alistair Petrie
The awkwardness of being a teenager facing very adult problems — love, sex, family, identity — has never been funnier or more poignant than the UK-set Sex Education.
Anchored by a young ensemble of crazy-relatable group of high school characters, lead by Asa Butterfield's awkward Otis, each of the first season's brisk eight episodes chronicles the messiness of high school that Otis tries to navigate by starting an unofficial therapy practice for students in a school that considers him as "other." Otis is almost as good (if not better than) his mother (Gillian Anderson), a licensed therapist with a complicated emotional and sexual history. Their relationship, and all the friction therein, serves as Sex Education's beating heart — one the show wears on its considerable sleeves without (thankfully) veering into melodrama or contrivance.
The show's wit and charm are only rivaled by how accurate it captures the terrible privilege of this stage of growing up — the ups and downs and gains and losses of kids finding themselves to be just as adult and unsure as those adults raising them. Frank and R-rated, Sex Education is a refreshing take on the very familiar "coming of age" high school tale. One of the best first seasons ever.
The Assassination of Gianni Versace: American Crime Story
Created by: Ryan Murphy
Cast: Darren Criss, Edgar Ramirez, Penelope Cruz, Ricky Martin, Cody Fern, Finn Wittrock, Judith Light, and Jon Jon Briones
The Assassination of Gianni Versace: American Crime Story is arguably Ryan Murphy's greatest creative achievement.
Despite its 1997-based narrative surrounding the real-life murder of fashion designer Gianni Versace (Edgar Ramirez) by the hands of a very disturbed and sad man named Andrew Cunanan (Darren Criss), Assassination feels timeless with its themes of fame and the cost emotionally-vulnerable and self worth-deficient people will pay to achieve it.
Criss' Cunanan is a broken-not-sprained man child, a liar and a charmer struggling to make his life mean something by way of taking that of another. There's almost a Psycho/Norman Bates quality to the way Cunanan is dramatized, with Criss' fearless, vulnerable performance proving transcendent in a way that we often feel like we're watching what really happened. That we're not watching a character based on a real person, but rather the real thing — tears and rage and all.
With a propulsive narrative that reaches back in time to highlight key persons and events leading up to Versace being gunned down outside his home, Assassination achieves an almost Memento-like affect with its drama that resonates long after the credits role. While bingeing, make sure you pause playback if you have to grab something or go to the bathroom. You won't want to miss a frame.
Breaking Bad
Created by: Vince Gilligan
Cast: Bryan Cranston, Anna Gunn, Aaron Paul, Dean Norris, Betsy Brandt, RJ Mitte, Bob Odenkirk, Jonathan Banks, and Giancarlo Esposito
Breaking Bad sits up there with The Sopranos as one of the most game-changing TV series ever made.
Vince Gilligan and his writing staff prided themselves, week in and week out, on putting themselves and their characters constantly in corners and finding ways to weasel them out. This approach created nailbiting, slow-burn tension and gripping drama as the tragedy of Walter White (Bryan Cranston) — a has-been high school chem teacher-turned-prideful drug lord — hooked many onto Breaking Bad's addictive brand of "crime doesn't pay" storytelling.
As anti-heroes go, they don't get more interesting (or evil) as White. What started as an exercise to provide a fiscal cushion for his family in the wake of Walt's fatal cancer diagnosis becomes a chronicle of one man's ambitions and pride eroding away at his moral and ethical core like the very cancer infecting his body. Once the cancer enters remission, Walt's (ahem, Heisnberg), plan to be the meth kingpin of Albuquerque creeps past its original scope and collects quite the body count. Dragged along the way is Jesse, played by the Emmy-winning Aaron Paul, as Walt and Jesse's relationship finds new ways to go to the brink before ultimately breaking. While the series was released before bingeing became a thing, it's definitely best experienced in one long watch. But be warned: When it's over, you'll wish you get it all back for the first time. (Thankfully, we have a movie coming in October to look forward to.)
Better Call Saul
Created by: Vince Gilligan, Peter Gould
Cast: Bob Odenkirk, Rhea Seehorn, Jonathan Banks, Michael McKean
The best spinoff since Frasier, Better Call Saul achieves a level of quality that arguably surpasses its mothership series, Breaking Bad.
On paper, a "Saul Goodman Begins" show seems like a noble misfire at best, a shoulder shrug at worst. But creators and Breaking Bad colleagues Vince Gilligan and Peter Gould are pathologically incapable of delivering nothing short of excellent, with Saul being a train we know exactly how it wrecks but can't help but take our seats and watch.
"Slippin'" Jimmy McGill (Bob Odenkirk) practices public defender law in the shadow of his brother, Chuck, and the law firm with his name on it. Sibling rivalry barely covers the McGill brothers' complex relationship, which slowly jack knifes into tragedy as everything and everyone Jimmy cares about gets caught in the wake of his quick schemes and morally-bankrupt ways. Jimmy is a "nice" guy capable of cutting corners to get ahead without feeling too bad about it. That's almost worse than a chem teacher wanting to be a drug dealer, especially when Jimmy's choices have consequences for the only person who truly believes and loves him, fellow lawyer Kim Wexler (the exceptional Rhea Seehorn.)
Sips not gulps when it comes to bingeing Better Call Saul, savor it because we may never get a show this excellent again.
The Good Place
Created by: Michael Schur
Cast: Kristen Bell, Ted Danson, William Jackson Harper, Jameela Jamil, Manny Jacinto, and D'Arcy Carden
If Lost and every college philosophy class made a TV show, it would be The Good Place.
Not since 30 Rock has a sitcom achieved such an inspired joke-a-minute approach to its story, which — in Good Place's case — is seemingly more concerned with using the trappings of a network sitcom to Trojan Horse in a highly astute examination and discussion of what it means to be a moral and ethical person.
We know, that doesn't sound very funny — but it is! Seriously, the internet is not steering your wrong about this show set in the Afterlife. Kristen Bell plays Eleanor, a recently-deceased woman and terrible person who has seemingly landed in the "good place" by a literal biblical error. There, she finds her Wizard of Oz-esque band of companions to help her navigate life after death and uncover the truth about where she really is. With architect Michael, played by a never-better Ted Danson, and her very smart (but stuck in his head) soulmate Chidi (the crazy-talented William Jackson Harper), Eleanor starts a very hilarious and inspiring way to redeem her life after death. Often in brilliant and laugh-out-loud ways.
Stranger Things
 Created by: The Duffer Brothers
Cast: Winona Ryder, David Harbour, Finn Wolfhard, Millie Bobby Brown, Gaten Matarazzo, Natalia Dyer, Charlie Heaton, Cara Buono, and Matthew Modine
Watching Stranger Things is like mainlining nostalgia.
The Duffer Brothers' ode to Amblin, Stephen King, and '80s sci-fi/horror made an instant dent in pop culture with its Goonies by way of John Carpenter and Steven Spielberg story about the telekinetic Eleven (breakout star Millie Bobby Brown), the young D & D fans charged with protecting and befriending her, and the slimy, reality-breaking creatures from the Upside Down our young heroes must team up and defeat. Equal parts mystery thriller and "hang out" show, Stranger Things is at its best when it's just two characters talking in a room like you or your friends would if faced with events that would make Mulder and Scully blush.
You take away all the exceptional special effects and fist-pumping, edge-of-your-seat set pieces, all the action, and what you're left with is the reason why fans are so hooked on this show: The characters. You can't get this dynamic anywhere else on television. That, coupled with Stranger Things being designed to take advantage of Peak TV's binge-friendly landscape, makes Netflix's hit show one of the medium's all-time greats.
Queer Eye
Created by: David Collins
Cast: Jonathan Van Ness, Bobby Berk, Karamo Brown, Tan France, Antoni Porowski
Queer Eye's most recent season, Season 4, became an instant fan favorite, thanks to the Fab Five's effortless chemistry and truly inspiring subjects. Ever since Netflix picked up the rights to the former Bravo show, Queer Eye quickly ascended to the top of Peak TV's most accessible and bingeable shows.
The Emmy-nominated reality series follows food and wine expert Antoni, fashion king Tan, life coach and point man for all things culture Karamo, interior design guru Bobby and the always-funny groomer Jonathan as they embark on a change agent mandate to re-shape and revitalize the lives of their subjects — average citizens struggling to feel seen and heard in a world that they're not sure knows how to look at and listen to them. The Fab Five set up a posh homebase in a U.S. city and endeavor to do more than just a physical makeover for their lucky subjects. In between home improvement projects, laugh-with-but-never-at asides, and cooking lessons, the Fab Five enrich the lives of everyone they encounter. In every episode, hope goes viral — which is ideal at a time when the world could use strong doses of it. Have at least a box of Aloe-lotioned tissues ready and a shoulder to cry on as you binge. You're gonna need 'em.
Supernatural
Created By: Eric Kripke
Cast: Jared Padalecki, Jensen Ackles, Misha Collins, Mark Sheppard
If you haven't seen Supernatural before, we envy you. We wish we could get our first time back.
The CW's longest-running show, the lone holdover from the WB days, wraps up its epic, "guitar rock"-fueled 15-season run this year, but it's never the wrong time to catch up on this series.
Starting in 2005, Supernatural centers on two brothers — Sam and Dean Winchester — as they struggle to stop supernatural threats from pushing into our world, using little more than shotguns and faith. Their leather-jacketed, muscle-car adventures effortlessly negotiate various tones in a way that would make other series tap out. Like The X-Files before it, Supernatural evolved from a "Freak of the Week" format to a more serialized show with weekly victories and season-long threats. It also wasn't afraid to embrace more comedic and very meta storylines, often commenting on the show and its fans itself in ways no show had truly attempted before. The back half of the show's run has largely been thread through literal Biblical tentpoles — heaven and hell, God and the Devil, angels and demons. How this show got away with turning Sunday School lessons into set pieces and whole seasons worth of episodes, on the network known for targeting the bedazzled cherry cell phone generation, is worthy of at least several studies. How it did so with suspense, legit jump scares, fun, tears, and no shortage of big emotional emotional stakes makes it worthy of your time.
Ozark
Created by: Bill Dubuque and Mark Williams
Cast: Jason Bateman, Laura Linney, Julia Garner, Peter Mullan, and Janet McTeer
The Netflix original series Ozark is frequently one of the streaming service's most popular shows, and for good reason. Almost like a backwoods version of Breaking Bad, the series opens with Jason Bateman's life falling apart. He and his family are forced to move from Chicago to the Ozarks to start a money laundering business after he discovers his longtime business partner has been dealing with Mexican drug cartels, and they owe an inordinate amount of money. Bateman's life is spared when he promises to recoup by opening a vacation destination in the Ozarks, but as he and his family enmesh themselves deeper and deeper into the criminal underworld, the line between good and bad becomes further blurred. It's pretty thrilling, packed with twists, and the performances are solid. It's not as tight or as emotionally satisfying as Breaking Bad, but then again what is? In Ozark's favor, the show was created with binge-watching in mind, so there are tons of cliffhangers that have you ready to move right on into the next episode. – Adam Chitwood
Creator: Dan Harmon
Cast: Joel McHale, Donald Glover, Alison Brie, Chevy Chase, Danny‌ Pudi, Yvette Nicole Brown, Gillian‌ Jacobs, Jim Rash, Ken Jeong, John‌ Oliver
If it's a comedy you're looking to binge, you can't do much better than Community. The NBC sitcom was famous for taking huge tonal swings, and is where Avengers: Endgame directors Joe Russo and Anthony Russo cut their teeth exploring different genres. At heart, this story of a mismatched group of adults attending community college is about, well, community. But in practice, Dan Harmon's show is a wildly ambitious (sometimes overly so) exploration of human interaction and ego, taking detours to craft action episodes, David Fincher homages, and even a full-on stop-motion animated episode. Bingeing whole seasons at once is a delightful way to experience the range of this gone but not forgotten series. – Adam Chitwood
The Witcher
Created by: Lauren Schmidt Hissrich
Cast: Henry Cavill, Freya Allan, Eamon Farren, and Anya Chalotra
The Witcher is an absolute blast and a half. The fantasy series is indeed very fantasy—it's more Lord of the Rings than Game of Thrones—but it also doesn't take itself too seriously and whole-heartedly embraces all aspects of fantasy storytelling and gaming, including fun side-quests, POV battles, and even a bard who follows Henry Cavill's titular human/creature hybrid around singing songs about his glories. The show's first season follows three stories destined to converge: Cavill's Witcher is a muscle-for-hire monster hunter who begins to question why so many princesses have been turning into creatures; Yennefer of Vengerberg (Anya Chalotra) is a powerful sorceress in training who struggles to keep her emotions in check; and princess Ciri (Freya Allan) is on the run after the sacking of her city, but harbors secrets of her own. Steeped in lore and world building but always engaging, The Witcher is a perfect kind of binge-viewing show. – Adam Chitwood
The Great British Baking Show
I say this without hyperbole: The Great British Baking Show is one of the best TV shows ever made. I had seen a lot of food/cooking TV before mine eyes witnessed the glory of TGBBS, so I was primed for some dramatic editing, contestants painted as "characters," and cutthroat competition. What makes The Great British Baking Show so good is it dispenses with the pretense and is simply just about baking. There's no cash prize at the end, just bragging rights. Contestants tackle three different challenges each week, where they're given a set time to complete a specific bake. But in contrast to most American competition series, these contestants openly and willingly help one another. They're nice. So nice that you may spontaneously burst into tears once you start digging in, taken aback at the sheer and utter humanity on display. These are just normal people who love baking, coming together to whip up some savory bread or dainty tarts or extravagant cakes. It's all just so pleasant, which is why it's perfect for feel-good binge-watching. – Adam Chitwood
The Haunting of Hill House
Creator: Mike Flanagan
Cast: Carla Gugino, Michael Huisman, Kate Siegel, Mckenna Grace, Oliver Jackson-Cohen, Elizabeth Reaser, Victoria Pedretti, Lulu Wilson, Timothy Hutton, Violet McGraw, Julian Hilliard,
If you want to binge something that's genuinely terrifying, spring for The Haunting of Hill House. Inspired by Shirley Jackson's seminal ghost story, the series carries over almost none of Jackson's narrative (though occasionally too much of her prose), and focuses instead on the haunted lives of the withering Crain family. Bouncing back and forth between the summer the Crain's spent in the titular haunted mansion and the years of grief and family trauma they endured in the aftermath. Gerald's Game and Doctor Sleep filmmaker Mike Flanagan has proven in previous works that he's got a knack for upsetting visuals and well-composed scares, but his great success in The Haunting of Hill House is the way he ties the scares into a rich, intertwining tale of family tinged with tragedy. Led by a spectacular ensemble, the series veers between emotional revelation and moments of horror that give you full-body chills. It's the most moving and honest portrayal of mortality and grief this side of Six Feet Under, but it'll give you a whole lot more nightmares. — Haleigh Foutch
The Haunting of Bly Manor
Creator: Mike Flanagan
Cast: Victoria Pedretti, T'Nia Miller, Oliver Jackson-Cohen, Amelia Eve, Rahul Kohli, Tahirah Sharif, Amelia Bea Smith, Benjamin Evan Ainsworth, Henry Thomas, Kate Siegel, and Carla Gugino
The follow-up to The Haunting of Hill House is a new story with new characters and a new setting, but it's just as emotionally devastating as that Netflix original series. Based on the works of author Henry James, most prominently Turn of the Screw, this terrific new season takes place in the 1980s and follows a young American woman with an enigmatic past who is hired on as an au pair for two young children at the titular Bly Manor. But all is not what it appears to be at Bly, and horrors ensue. While Hill House was extremely scary, Bly Manor is not – nor is it trying to be. This is Gothic romance ghost story, and in that way it's actually quite romantic and emotional, but definitely still spooky. And you will definitely be an emotional mess by the time you reach the end. – Adam Chitwood
GLOW
Created by: Liz Flahive and Carly Mensch
Cast: Alison Brie, Betty Gilpin, Sydelle Noel, Brittney Young, Marc Maron, Britt Baron, Kate Nash, Gayle Rankin, Kia Stevens, Jackie Tohn, and Chris Lowell
The Netflix original series GLOW has one of the more original premises in recent TV history: It chronicles the life of a fledgling professional wrestling promotion called the Gorgeous Ladies of Wrestling, as various aspiring actresses and women down on their luck audition and agree to take a stab at a wholly new field. Marc Maron plays the schlock B-movie director tasked with turning GLOW into a show, Alison Brie plays a theater nerd and aspiring actress taking it all way too seriously, and Betty Gilpin plays Brie's former friend and soap opera star who becomes the centerpiece of the wrestling event. Season 1 is delightful, but Season 2 is one of the best seasons of a Netflix TV show ever made. It's purely joyous, focused, character-rich, and wildly entertaining, and did I mention the bangin' 80s soundtrack? And at half-hour installments, it's an incredibly easy binge. – Adam Chitwood
'SNL': Colin Jost Unwittingly Mocks His Wife, Scarlett Johansson, on "Weekend Update"
Oh boy.
About The Author
Best Netflix Shows to Binge Watch Right Now
https:///best-shows-to-binge-watch-on-netflix/ Best Netflix Shows to Binge Watch Right Now
Movie Download Downloader Netflix How Movie Download Free App Free Hd App Sites From Youtube Sites Free Hd Apk Website Online Best Site Bollywood In Hindi Website New Best App Utorrent By Utorrent Movie Download Google