Games
Best of 2020: Mario and Zelda were great, but GoldenEye really switched me to Nintendo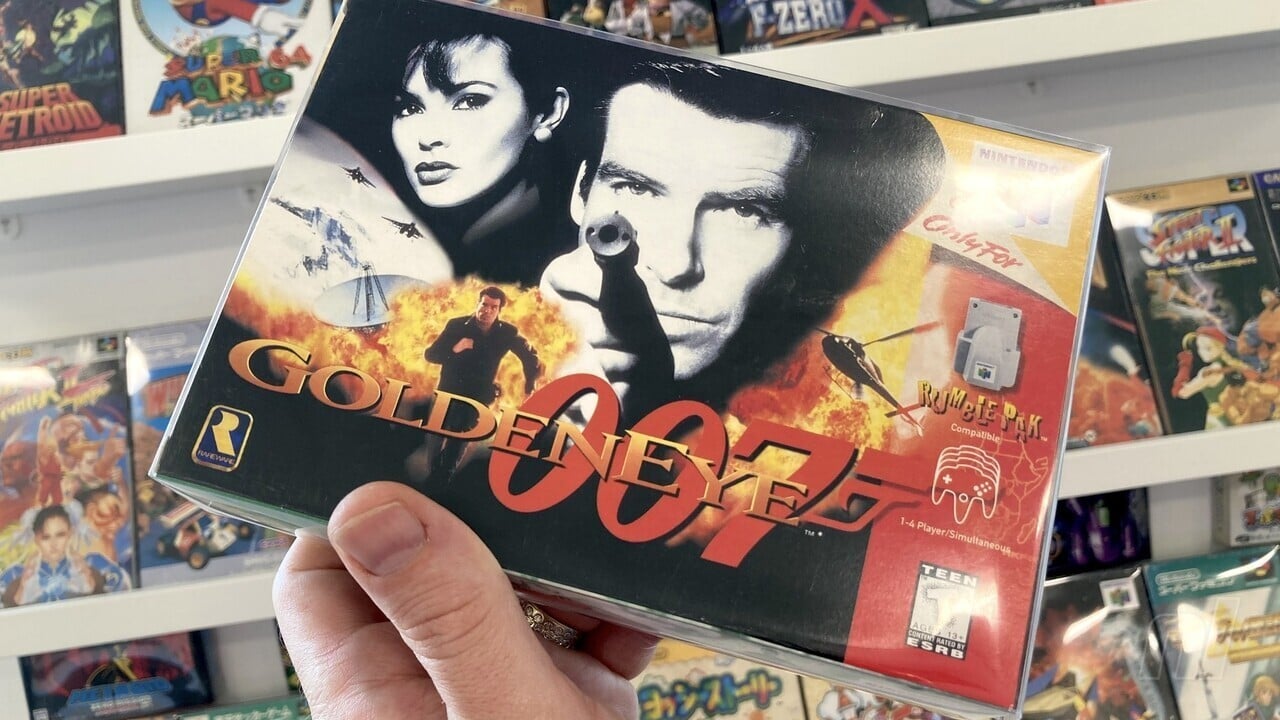 During the holiday season, we'll republish a series of Nintendo Life articles, interviews, and other feature articles over the last 12 months that we consider to be the best of 2020. We hope this will give you a chance to catch up with the work you missed. Or just look back on the year when there were some highlights — honest!
This Soapbox feature was originally released in August 2020.
---
Recently I've been living in Nintendo, but I rewound it for 30 years and was a kid of Sega Mega Drive.was fun Super Mario Bros. 3, Chip and Dale: Rescue Ranger, Duck hunt And of course, the original rarewear classic, Battletoads & Double Dragon It was my brother NES, but at that time I chose either Mario or Sonic, so it wasn't a very contest. With too many untimely jumps and stupid deaths at Goomba's feet, Mario has come to prefer automatic spin jumps that eliminate enemies without the need for pixel precision.
In those original Sonic games, I was able to hit a state of elevated flow running through a zone filled with his twisted loops. When I tried the same thing in Mario's game, I inevitably clipped and stopped the penultimate step of Bowser Trooper or stairs. Of course, the platformer style is different, but I preferred the SEGA flavor.
It took a long time to graduate beyond 16-bit, and the 5th generation was in full swing by the time it was upgraded.The PlayStation was on the scene for a while, trying out the following games Twisted metal, Die Hard Trilogy And Tekken 3 It certainly made it attractive at a friend's house. Still, I wasn't a big fan of load times, but it was an undeniably smooth kit next to my dilapidated Megadrive.
The Nintendo 64 did not arrive in the UK until 1997, and despite the turmoil of the people Super Mario 64, I wasn't on board right away. No, it was another game that led me straight to the Nintendo road. Wandering Comet (now an obsolete British retailer) on a family trip to buy toasters and such long-forgotten appliances, the N64 Demo Station through a row of tall refrigerator freezers I got a glimpse of. It was running a game with lots of dull gray on the screen.Stay away from parents "I'm just going to see something …", I created a beeline for a terminal and found a little kid looking up at the screen while poking at a controller with three strange protrusions on the console.
game is Golden eye 007, And the kid was exploring the first "dam" level, but I didn't know it at the time-I didn't even see the dam itself that day. Attentive guardians saw Lil Timmy push a gray analog stick and hang out in 3D space. He turned to the wall, turned a little to the left, shuffled towards the concrete when the pistol bob, turned a little to the right, shuffled a little more … etc.
This lasted for a few minutes, and when the child pressed a random button to find the trigger, the black PP7 disappeared and reappeared. Bond spent a considerable amount of time examining the floor and sky that day. I waited patiently, cast a polite look at the adults, embarrassed them, and tried to "let this other boy go." Eventually, his rivals were kicked out and he got the strange controller for the first time.
I'd say I joined the game right away, but in reality I wasn't much better than the old Timmy No Trigger. I was able to find at least the "Z" button, but I don't even remember that there was one guard in the 90 seconds before being pulled away. I never passed through the very opening area, but I knew one thing: I had to play this game..
It promised a Bond experience that captured not only action and explosion, but another important aspect of the character: Sophistication
007 GoldenEye (movie) had been released for over a year at that time, but I remember being quite absorbed in it. What I saw and played at the demo station didn't feel like a movie-Pierce Brosnan headed half of the movie into the sky, strafing against a concrete wall. -But from those very first moments, it's a bond experience that captures not only the action and explosion that promised, but also another important aspect of the character, sophistication.
The movement of Golden Eye felt elegant and accurate. Hold down the "R" and pull up the cross, carefully targeting the guard, and realistically recoil from incredibly considered and sophisticated shots, especially compared to the FPS that spent the most time up to that point. Confirm that. DOOM.. The movement was fluid, but the aim was to face the enemy and hit "Ctrl". DOOM was definitely fun, but it was a blunt instrument. The GoldenEye quickly felt like an elegant weapon for a more civilized era. Even when I made my first blunder under that first guard tower, I could feel the potential of this game.
Eventually I got an N64 Lyrat Wars (Star Fox 64) and a thick rumble pak. I quickly caught up with Super Mario 64 and explored the magical Kokiri Forest on Christmas morning in 1998.Other unexpected joys followed along with a big obvious game that made sure I made the right choice: games like: Banjo and Kazuye, ISS 64, Snowboard kids, Rogue squadron, F-ZERO X, 1080º snowboard, All the classics I happened to find in the late 90's, and the game I would have missed altogether without a chance encounter on a comet.
The game will not be officially re-released due to the intertwining of rights and licensing issues, but it is approaching at least once. Unfortunately, impressive (and unofficial) GoldenEye 25 Project Remastering the game on the latest hardware was shut down early today by Bond rights holder MGM / Danjaq. The team will divert that work to another project, but Rare's game will remain in license purgatory for the foreseeable future. It's virtually unprecedented that a monumentally successful and influential game like GoldenEye hasn't been re-released for nearly 23 years.
Perhaps (and perhaps properly) it feels like many old Bond movies: dinosaurs, relics from the console war
Perhaps it should be. GoldenEye makes the most sense on the original hardware. It controller, It A thorny analog stick. Definitely (and perhaps properly), it feels like many old Bond movies: dinosaurs, relics from the console war. Debonair at the time had an attitude and finesse that worked in that context, but it wasn't suitable for the modern world. That outdated behavior can cause eyebrows or complete embarrassment lately. The problem is that despite some efforts by veteran GoldenEye developers, nothing else hits the spot like Rare's original cocktails.
Time splitter It was great, but it wasn't Bond. Perfect darkRhea's spiritual follow-up was certainly impressive, but never worked at the same intestinal level. Intellectually, I thank everything it added, Banjo and Kazui Compared to its predecessor, the game pushed the hardware to the limit and felt a bit too ambitious for its own benefit. There were many more options (and bots!) In multiplayer, but despite the technical magic, GoldenEye felt trimmed and purposed where Perfect Dark was bloated and widespread. ..Navigating the menus (oh, those filing sounds!) At lightning speed over the years meant I could set up a round. You live only twice> Bunker> Power Weapon Or License to kill> Facilities> Pistol Sight on auto aiming off (faster than you can say)always). To be honest, I don't remember playing PD multiplayer more than once.
No doubt the timing of the Golden Eye was important. The tie-in game may have missed the release of the movie, but it has reached the perfect point for me, as was the N64 itself. After years of megadrive games, I was ready for a big step forward and Golden Eye provided just that. The seismic shift to 3D is a leap of generations who never wanted the new console to become a rival. These days, we tend to soften expectations and often rely on the excellent work of tech experts like Digital Foundry to highlight the fine-grained and subtle enhancements offered by the latest and greatest of the games. There is. Even impressive advances can be difficult to find on high-speed trailers on low-quality streams displayed on sub 4K displays or on the phone.
The N64 sometimes gets a bad rap as the console that first marked the decline of Nintendo following the Halcyon 16-bit era, but as my first (home) Nintendo console, it's special in my game memory. Occupies a lot of places. In fact, I'll always take it over to the SNES, and it all comes down to one game. Mario and Zelda may have defined the genre on the N64, but so did GoldenEye. And it was Bond who brought me out of the cold.
https://www.nintendolife.com/news/2020/12/best_of_2020_mario_and_zelda_were_great_but_goldeneye_really_switched_me_on_to_nintendo