Sports
Bucs Briefing: 3 Biggest Bucs' Hits, Misses Of 2020 Season – NFL Sports
Believe it or not, sometimes I get things wrong.
Yes, I know that is hard to understand, but it's true. Every NFL analyst gets things wrong at times, that's why I always say we should be extremely transparent about our misses when they happen – there's no shame in that. Like on the football field, bad results can happen even when the process behind a stance or opinion is good. Sometimes, variables change in ways you didn't or couldn't have foreseen, altering the outcome.
Nobody bats a thousand, but in addition to talking about my misses on the Bucs 2020 season, I'm gonna talk about a few of my home runs, too. Oh, you don't remember any of those? Well, let me jog your memory, with my three biggest hits and misses from my evaluations of the Bucs' 2020 season.
Hit No. 1: Tom Brady Is NOT Washed Up

This one goes back to one of my first articles at Pewter Report, shortly after Tom Brady was signed by the Bucs in free agency. Here's what I wrote about the star quarterback, detailing how he would fare just fine in a vertical-based offense that asked for a ton of high degree-of-difficulty throws from the quarterback position.
Despite a great start to the season and ample evidence that Brady was faring just fine physically in the Bucs offense, the national media spun wild headlines leading into the bye week, creating a fake narrative that Tampa Bay had buyer's remorse when it came to Brady. I wrote in detail about how Brady was the least of the Bucs' worries, and that the most important thing for Tampa Bay was to fix the schematic and play-calling issues with their offense.
Miraculously, when the Bucs fixed those tendencies and started being more predictable on first down, using play-action and man beaters to open up the middle of the field and relying less on the long ball for all their offensive production, their whole offense turned around very quickly. It was never that they needed to adjust for Brady, it was that they needed to adjust for any quarterback to have enough success to win a Super Bowl in Arians' scheme. Once they did that, the rest was history.
As for Brady, he went on to have the best year any Arians' quarterback has ever had, despite being 43 years old and in a system that rarely makes things easy on the game's most important position. Arians has had some strong quarterback performances in his offense before, but nothing like what Brady did in 2020.
Miss No. 1: Bench Sean Murphy-Bunting
I think the process behind my opinion on this one made sense, but I'm sure glad the Bucs didn't listen to me. Murphy-Bunting really didn't start playing better until defensive coordinator Todd Bowles went press-heavy against New Orleans and Green Bay in the playoffs, although there were some slight signs of life in Week 17 against Atlanta and in the wild card round against Washington.
But Murphy-Bunting was a star in the divisional and conference championship playoff games, playing a critical role in the Bucs' dismantling of two of the league's best offenses. In the playoffs Murphy-Bunting intercepted passes in three straight games, setting up Tampa Bay touchdowns with each turnovers. The second-year cornerback went from being easily the team's biggest defensive weakness to being one of their most important players in the playoffs, honoring the Bucs' faith in him with a huge individual turnaround.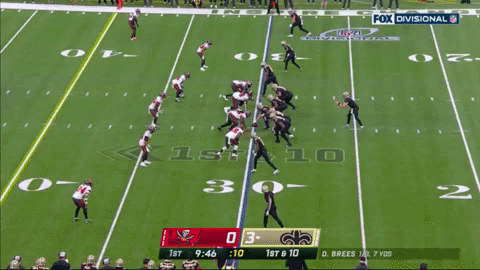 Weeks before the postseason, shortly after Murphy-Bunting was shelled for 131 yards and two touchdowns against the Falcons in Week 15, I suggested the team should sit him for a little while to re-build his wilting confidence and technique, while giving him another chance to earn back his starting spot next offseason. Ross Cockrell and Mike Edwards had been playing very well, and I didn't think the Bucs could afford to let Murphy-Bunting's poor play hurt them with critical postseason games looming.
I was thrilled that Murphy-Bunting proved me wrong on this one, as he was one of my favorite prospects pre-draft and has been one of the my favorite Bucs to cover this season. Murphy-Bunting is easy to root for, and the Tampa Bay coaching staff had a better vantage point into the type of person he is than I do, which helped the coaches trust him to turn it around. Once the Central Michigan product got in a rhythm against the Saints, he was impressive the rest of the postseason.
Hit No. 2: Tampa Bay's Offense and Defensive Scheme Must Change
I've written about this one at length already, including in last week's Bucs Briefing, where I said the biggest reason the Bucs are Super Bowl champions is that their coaching staff took a long look in the mirror and changed critical aspects of their offense and defense when it mattered most.
You can read the full details here, but offensively the Bucs came out of the bye week with a commitment to being more aggressive on first down, utilizing play-action far more often, increasing their rate of motion pre-snap and finding more answers to pressure within their scheme rather than asking Brady to play hero ball under duress all the time, like they did against the Saints, Rams and Chiefs. Once they discouraged teams from blitzing as much, the Tampa Bay offense was off and running for the rest of 2020.
Defensively, the Bucs took much longer to work out their issues, struggling over three of the final four games of the season, then looking extremely vulnerable against Taylor Heinicke and Washington in the first round of the playoffs. But Bowles finally opting for more press man coverage was critical in the Bucs victory over the Saints and the Packers, as well as his deployment of seldom-used Cover 2 coverage against Green Bay. Bowles saved the best for last however, confusing the Chiefs offense in the Super Bowl by mixing up his coverages, playing some 3-safety/dime defense and laying off the blitz while getting creative with his front four. The masterful game plan held one of the best offenses we've ever seen to just three field goals in the biggest game of the year.
I clamored for all of those changes during the season, but what was most impressive was not only that the Bucs were humble enough to alter their game plans so significantly, but that they also taught the new techniques and scheme at a high enough level for players to execute with very little issue over the final eight games of the season. It was as impressive a coaching job as I've seen, and it resulted in a well-deserved second Super Bowl for the franchise.
Miss No. 2: Jordan Whitehead Is The Weak Link
After watching Jordan Whitehead's 2019 tape last summer, I surmised that it wouldn't be long until the Bucs had found a way to replace him in the starting lineup. Whitehead was simply at a clear disadvantage in man coverage that season, struggling against tight ends one-on-one and not offering much as a free safety either. I wrote the following after watching his 2019 tape:
As Bucs media, we probably don't talk enough about how Whitehead struggled last season in essentially all facets of the game. After a decent rookie season playing most of his football at free safety, Todd Bowles asked Whitehead to wear more hats in 2019 and the results were nearly disastrous.
Simply put, Whitehead isn't athletic or instinctive enough to play deep and make a lot of plays on the ball, and he isn't technical enough to be a lock-down man coverage guy in the slot either. It isn't unusual to see Whitehead take a false step or two at the top of the route, as more elaborate route runners will consistently tilt the safety off balance before breaking off their pattern.
Now, there might be some truth to the specific assessments of Whitehead's play (he isn't really rangy enough to be a single-high safety nor is he a lockdown man coverage defender), I was too quick to dismiss the good things that he does, failing to see how the Bucs could put him in position to succeed more often if his role changed. Once Bowles stopped asking him to be what he wasn't, Whitehead was able to flourish in Tampa Bay's defense.
The presence of Antoine Winfield, Jr. really helped Whitehead, as the Bucs were able to use Winfield as primarily a free safety, while asking Whitehead to do less as a single-high defender. With Bowles playing more zone in 2020, the one player that schematic change did help was Whitehead, who was left on an island in man coverage far less than before.
But Whitehead also grew individually as a player in ways I didn't foresee, showing improved instincts in zone and better ball skills than he did in 2019. In addition Whitehead was an elite run defender and tackler all season long, consistently flying to the football with great angles and hitting power as a tackler. His forced fumble on Aaron Jones early in the second half against Green Bay in the NFC Championship Game is the play of the game that people don't talk about enough.
The #Packers weren't going to to convert on 3rd down anyway but Jordan Whitehead forces his second fumble of the game. First time the #Bucs recover it.

Last two drives by the #Packers were turnovers, first Rodgers INT and now Aaron Jones fumble.pic.twitter.com/CQSGpQfiWJ

— Dov Kleiman (@NFL_DovKleiman) January 24, 2021
I don't know if Whitehead is worth a second contract in Tampa Bay, considering all the guys they have to pay, but he proved this season that he's a valuable contributor in his own right, reminding me to always leave room for young players to grow in the right role.
Hit No.3: The Bucs Had The Best Draft
On the Pewter Report Podcast live NFL Draft show, I said the Bucs had as good a draft as any team in the NFL, largely based on my pre-draft affinity for Iowa tackle Tristan Wirfs, Winfield and Minnesota wide receiver Tyler Johnson, a fifth-round pick, whom I had a third-round grade on. You can read here to view my full assessment of the class, but here's an excerpt from what I wrote at the beginning of the article:
In one of the most important drafts in franchise history amidst challenging circumstances no one could have foreseen a few months ago, general manager Jason Licht and the Tampa Bay Buccaneers front office crushed the 2020 NFL Draft.
I mean, crushed it.
… Let's take one last intentional look at the 2020 rookie class and how its impact on Tampa Bay's upcoming season could be pivotal in this franchise's pursuit of a second Super Bowl title.
The prophecy foretold! The Bucs probably had the biggest rookie impact of any team in the NFL, with Wirfs the only player on the team to play every snap, and Winfield finishing in the top three on defensive snaps. Wirfs was arguably the second-best player on the team this season after Brady, which is just insane to think about given how talented the Bucs were this year. Winfield was one of the team's more consistent defensive players on an up-and-down unit for most of the year.
Both players were instrumental in Tampa Bay's success, with Wirfs allowing just one sack all season long despite a murderer's row of edge rushers, while Winfield finished with three sacks, three forced fumbles, two interceptions and eight pass breakups, including three in the end zone. It seemed like every time the Tampa Bay defense needed a play in a critical game, there was Winfield, stripping Jared Cook of the ball in the playoffs or breaking up a game-tying 2-point conversion pass from Daniel Jones against the Giants or knocking away a sure six points in the back of the end zone to preserve the Bucs' comeback victory over the Falcons in Week 15.
And then there was Johnson, whose 15-yard back shoulder grab against the Saints on third down was a crucial play on the Bucs' scoring drive to take a 23-20 lead late in the fourth quarter. The next week Johnson had a big catch over the middle of the field for a first down, before drawing the game-deciding pass interference against Green Bay in the NFC Championship Game. Johnson wasn't asked to play a big role this season and he did have some issues with drops, but he made up for it with several outstanding plays on his way to a 14-catch, 200-yard, two touchdown season as a rookie.
The jury remains out on players like running back Ke'Shawn Vaughn, who struggled with ball security all season, as well as defensive tackle Khalil Davis, who the team really needs to take another step this offseason. But for the Bucs rookies that were asked to be key contributors this season, the results couldn't have realistically been much better.
Miss No. 3: Todd Bowles Isn't Going To Change
I'm not sure if I wrote it anywhere, but heading into the playoffs I wasn't sure how far the Bucs would go, but I ultimately believed they would be derailed by Bowles' inability to adapt to his personnel and alter his defensive strategy, especially in coverage. Talking to people who covered the former Jets head coach in New York, it was strongly suggested to me that changing course despite consistently negative results wasn't something Bowles had done well in the past, and as weeks went on watching offense after offense move the football on the Bucs defense from Week 8 on, I had less hope we would see the significant change needed to win the Super Bowl in 2020-2021.
After the Bucs struggled against Heinicke and the Washington Football Team in Round 1, my faith in Bowles' ability to figure it out was at an all-time low. But, as mentioned above, Bowles' ability to transform his defense, especially in the secondary, against top competition was ultimately the biggest reason the Bucs are Super Bowl champions this year. I couldn't believe it when he ran a ton of Cover 2 man in the second half to thwart Green Bay and Aaron Rodgers, something Tampa Bay had run at near a league-low rate during the regular season.
And then the way the Bucs were ready for everything Kansas City threw at them in the Super Bowl after getting embarrassed by the Chiefs a couple months prior … wow, what a performance. I had my doubts about Bowles' ability to adapt as a defensive coordinator after what I deemed was a disappointing second half of the regular season for such a talented unit, even quietly hoping a team might hire Bowles away so the Bucs could see what they have in outside linebackers coach Larry Foote. But Bowles stepped up when it mattered most, shutting me and the other doubters up with a coaching performance for the ages in the postseason.

– NFL Sports

Bucs Briefing: 3 Biggest Bucs' Hits, Misses Of 2020 Season
https://www.pewterreport.com/bucs-briefing-3-biggest-bucs-hits-misses-of-2020-season/ Bucs Briefing: 3 Biggest Bucs' Hits, Misses Of 2020 Season