Sports
Chelsea manager Tuchel "insults Porto's Conseikao" – Soccer Sports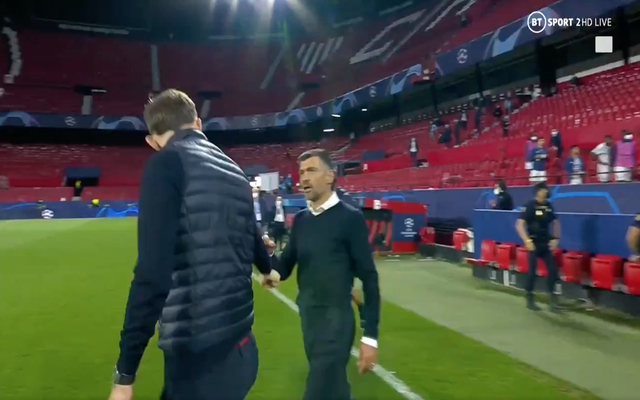 Porto manager Sergio Conseikao said Chelsea boss Thomas Tuchel was "insulted" after bowing to Bruce in the Champions League quarterfinals tonight.
Conseikao made a shocking claim in a post-match interview after Porto won the 1-0 second leg. Mehdi Taremi stunner It was too late to cancel the 2-0 deficit in the first meeting.
As quoted in the newspaper, 46-year-old Conseikao told TVI O Jogo The war of obvious words had nothing to do with the penalty shootout against Evanilson. Antonio Rudiger was sitting down..
Evidence in the video also suggests that there was friction between the opposing managers as Conseikao was joking to the Germans after the pair's fists hit shortly after the full-time whistle.
The frosty exchange can also be seen here. TVI and Eleven Sports..
Chelsea advance to Champions League semi-finals!

Will they arrive in Istanbul? ??

#UCL pic.twitter.com/bMs9ImnSYF

— BT Sport Soccer (@btsportfootball) April 13, 2021
BT Sport photo.
According to OJogo via TVI, Conseikao described Tuchel as follows:
"That wasn't the case [the words didn't have to do with the alleged penalty].. "
"I was insulted by this guy next door [Thomas Tuchel].. I told the referee that the fourth referee had heard the insult. "
O Jogo also points out that although the friction was quickly relieved, there was some short tension between both player sets shortly after the last whistle.
It will be interesting to see how Tuchel reacts to the allegations that he was rude and insulting to his professional opponents.

– Soccer Sports

Chelsea manager Tuchel "insults Porto's Conseikao"
https://www.caughtoffside.com/2021/04/13/chelsea-manager-thomas-tuchel-insulted-me-states-porto-boss-conceicao-in-clash-at-full-time-whistle/ Chelsea manager Tuchel "insults Porto's Conseikao"