Health
Cost of benign breast lump removal surgery in India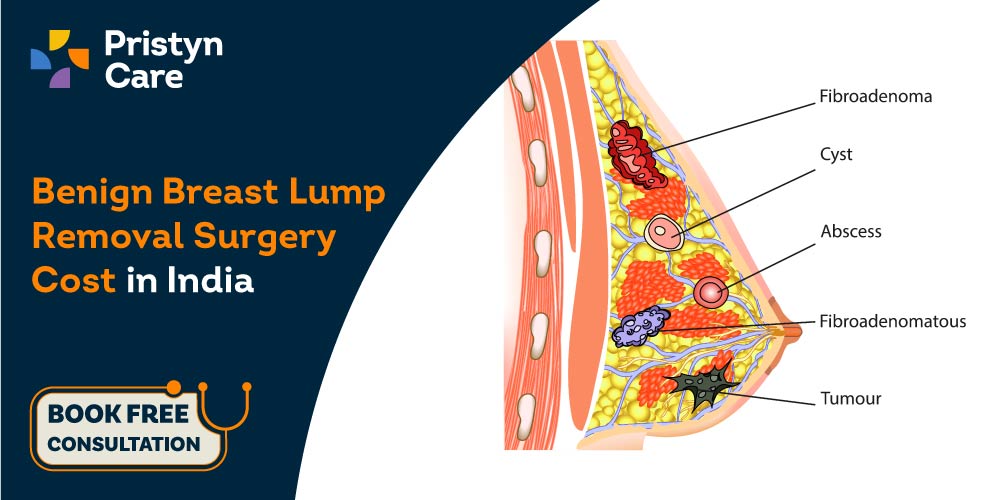 The cost of breast lump removal surgery in India starts at rupees. 30,000. The overall price can go up to rupees. About 60,000. Because there are many factors that influence Removal of breast lumps It's a good idea to consult with a specialist about the cost, especially the cost of breast lump surgery in your case.
What is Breast Lump Removal Surgery?
Breast lump removal surgery, also known as breast mass removal, is a procedure for removing cancerous and non-cancerous masses of the breast. Removal of a benign breast lump usually involves removing the mass and a small amount of healthy tissue surrounding the mass. This can be done using a variety of procedures such as breast-conserving surgery, partial breast resection, and extensive resection. Breast mass removal is the least invasive procedure for effectively removing a lump in the breast.
Whether the lump is formed by fibroadenoma, fibrotic cystic changes, intraductal papilloma, fat necrosis, lipoma, or any other reason, there are clear treatments available. After a proper diagnosis, the doctor will recommend the most appropriate method.
Factors Affecting Breast Mass Removal Costs in India
The cost of breast lump removal surgery depends on the following factors:
Size and number of lumps-

The larger the number and size of the lumps, the more effort the surgeon must make to remove the lumps effectively.

Technique used-

Some breast lumps can be treated with medicine alone, which is cheaper. However, others may need surgery. Each technique used to remove lumps involves the use of a variety of tools and technologies that also vary significantly in cost.

Hospital selection

– It is up to the patient to choose between a public hospital or a private hospital for treatment. Both of these types of hospitals have a fixed administrative fee. Public hospitals charge less, while private hospitals charge higher for better equipment and services.

hospitalization

– At the hospital, you have to pay the entrance fee, room fee, bed fee, food fee, etc. The longer you stay, the higher the cost.

Physician and Anesthesiologist Costs-

Surgical costs include costs paid to surgeons and anesthesiologists. Fees vary depending on the surgeon's expertise and experience.

Diagnostic test-

Before proceeding with treatment, the doctor orders tests such as ultrasound, MRI, mammogram, needle aspiration, and biopsy. These tests are essential to identify the best technique for accurate diagnosis and surgery.

medicine

– Certain medications are prescribed before and after surgery. All of these medicines are needed and increase the overall cost of surgery somewhat.
In addition to the above factors, there are some additional factors that have a slight impact on the cost of surgery for breast lumps.
Travel expenses

Postoperative follow-up

Physical therapy

Compression bra
The surgeon may explain the cost breakdown before proceeding with treatment.
How much does each component of breast lump surgery cost?
As mentioned above, there are certain factors that have a significant impact on the cost of surgery for breast lumps, followed by factors that have a minor impact. The average cost of all these components is shown below-
Pre-surgery test- Rs. 3,500 rupees 8,000
Surgeon and Anesthesiologist Fees- Rs. 10,000 rupees 25,000
hospitalization- Rs. 2,000 rupees 8,000 per day
Operating Room and ICU Fees- Rs. 5,000 rupees 10,000
medicine- Rs. 3,000 rupees about 5,000
Post-surgery clothing and support- Rs. About 2,000
The final cost of breast lump removal surgery can increase as it decreases based on the above factors. Therefore, it is advisable to have a financial backup to easily cover the entire cost.
Does Health Insurance Cover the Cost of Breast Surgery in India?
yes Removal of breast lumps is covered by health insurance policy. Breast lumps can be a serious problem if not diagnosed and treated in a timely manner. In addition, the lump is very likely to become cancerous. It is important to remove the lump to ensure that the breast lump does not pose a threat to your life.
All insurance plans offered by the company are well covered, as treatment is considered medically necessary. Whether the surgery is done outpatient or inpatient, the cost can be paid in full or in part using a health insurance policy. Please consult your insurance company for more information on the claim process and coverage.
Breast lumps are not a condition that needs to be left untreated for extended periods of time. It may increase the likelihood of a mastectomy, a breast cancer that requires removal of all breast tissue. In addition, the longer the breast lump grows, the worse the condition becomes and the more complicated it becomes to remove the lump. This also increases the cost of breast lump removal surgery.
Contact PristynCare for cost-effective treatment of breast lumps
Can contact Pristine care To receive advanced treatment for breast lumps from a professional surgeon. We have a respected team of surgeons who are skilled in removing breast lumps of all kinds safely and successfully. You can book an appointment with them and consult them for free to determine your ideal treatment strategy.
If the cost of benign breast lump removal surgery is your primary concern, PristynCare can help with that. Credit card, check, Cost-free EMI service.. These services give patients the freedom to choose the payment mode that is convenient for them. Please contact your medical coordinator by phone for service details.