Health
Does Travel Affect In Vitro Fertilization Pregnancy After Successful Embryo Transfer?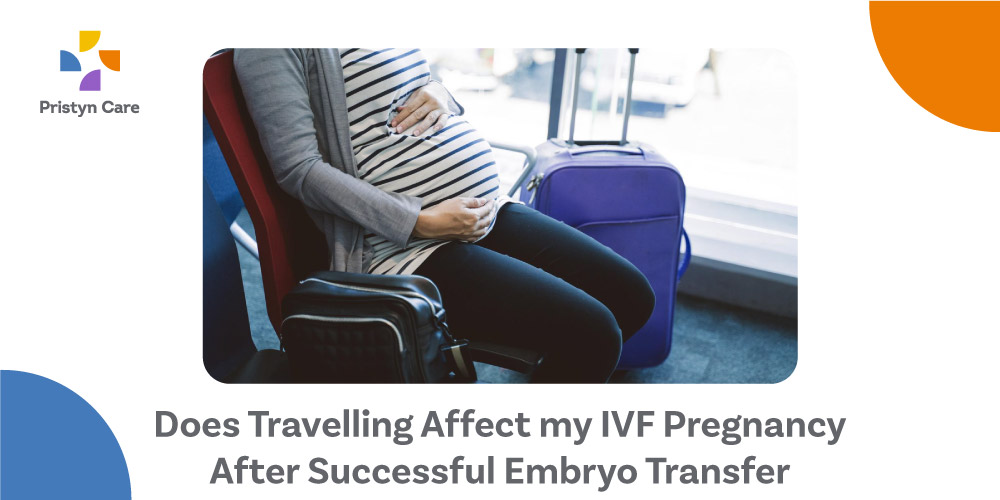 IVF treatment involves several important steps. Embryo transfer is the most important step in the whole process of IVF treatment. The success or failure of pregnancy is often predicted after implantation of the embryo in the uterus.
After embryo transfer, women need to pay particular attention to their health and their activities. Most women have a common concern associated with embryo transfer – "Is it okay to travel after embryo transfer?"
Travel can help you get rid of IVF stress
Travel helps couples receiving IVF treatment escape some of the stress that the entire treatment journey brings. Stress is one of the most triggering factors in the reproductive system. IVF is a very stressful journey, and when a woman goes through it, the stressful stages can often lead to abnormalities in her body. Infertility professionals often suggest that women have a better prognosis the better they manage the stress of life. Relaxed trips and escape routes can help women significantly eliminate the stressors of their daily lives, but they need to be done with appropriate precautions.
Is it okay to travel after embryo transfer?
Just because you are undergoing fertility treatment does not mean that your life will stop. You can plan your trip and go on vacation. It's just that you need to be well prepared and consider some important things.
First of all – don't plan a trip that conflicts with your doctor's consultation or appointment. IVF treatment, especially after embryo transfer, requires frequent monitoring, including some blood and ultrasonography. These visits are very important for monitoring fetal development and tracking process abnormalities.
If you have a travel plan, please let your doctor know. If you need to plan a specific part of your treatment, especially after embryo transfer, talk to your doctor to find out how to avoid last-minute planning, family emergencies, or important corporate meetings.
Travel after embryo transfer
It's normal to worry about doing something after an embryo transfer. However, there were no cases or cases showing that resuming normal daily life after embryo transfer had any adverse effects on pregnancy.
There are no travel restrictions while waiting for a pregnancy test. However, if the pregnancy is successful, women should not take long flights to travel to a rough destination until the next few ultrasounds are done to assess the location and survival rate of the pregnancy. recommend to. These tests are usually done 2-3 weeks after the pregnancy is confirmed.
Early in pregnancy, the risk of blood clots increases. These can turn into serious complications if a woman travels to an unmanageable destination immediately after embryo transfer. Long trips and frequent trips can increase your risk. Therefore, it is very important to limit movement in order to minimize such risks.
What do you do before planning your trip?
Be sure to talk with your doctor before planning your trip. Make sure your travel plans do not interfere with your personal fertility plan.
Meanwhile, it is always advisable to check the official websites of WHO and CDC for travel guidelines and alerts for pregnant women. You can also talk to the customer executives of the flight planning your trip and understand any travel rules or regulations. Due to the global coronavirus pandemic, it is very important for pregnant women to take special care when traveling with other passengers.
How to prepare a travel plan after embryo transfer?
While planning a trip, there are some things women need to do extra or a little more. Plans are made and tickets are completed, but that's not all. Here are some things to do.
Learn about fertility centers or support at your destination
If you are being treated for IVF or are pregnant, you may need medical assistance at any time during your trip. You can check and contact the fertility support center at the destination you are traveling to or seek recommendations from your doctor. You need to make sure that all help is available in case you run into problems while you are away from your doctor.
Travel vaccine
Talk to a fertility specialist and get the travel vaccinations you need before you travel. Ideally, you should be vaccinated against typhoid fever and hepatitis before traveling. Your doctor is the perfect person to let you know which vaccine you need between your IVF cycle and embryo transfer.
Stock up on your medicine
If you plan to travel, consult a fertility specialist and have all the medicines you may need during your trip. Tourists and people from other states and countries may have restrictions, so get everything you need before embarking on a trip.
Carry notes from your doctor
Ask your doctor to provide a note explaining the medications you need to take while traveling. This is even more important if you need to make an injection while traveling.
Keep the contacts you need at hand
Save all your important numbers on your mobile. The wise thing here is to keep all contact numbers in your diary if you are traveling alone, and the most important contact number on his or her cell phone if you are traveling with a partner or friend. Is to share. I don't know when the problem will occur.
Know the airline's medication policy
Every airline has its own dosing policy. Some airlines may need to carry the drug in certain types of bags, while other airlines may require you to carry the drug or syringe in a luggage bag. You can check the travel guidelines on the airline's official website or contact the customer helpline number to discuss with your executives.
You can consult with Pristyn Care's best IVF specialists to understand the outcome of your post-embryo transfer trip. Our doctor will help you with all the necessary information, notes, and tips you may need.