Entertainment
Every Never Back Down Martial Arts Movie Ranked (Including Revolt)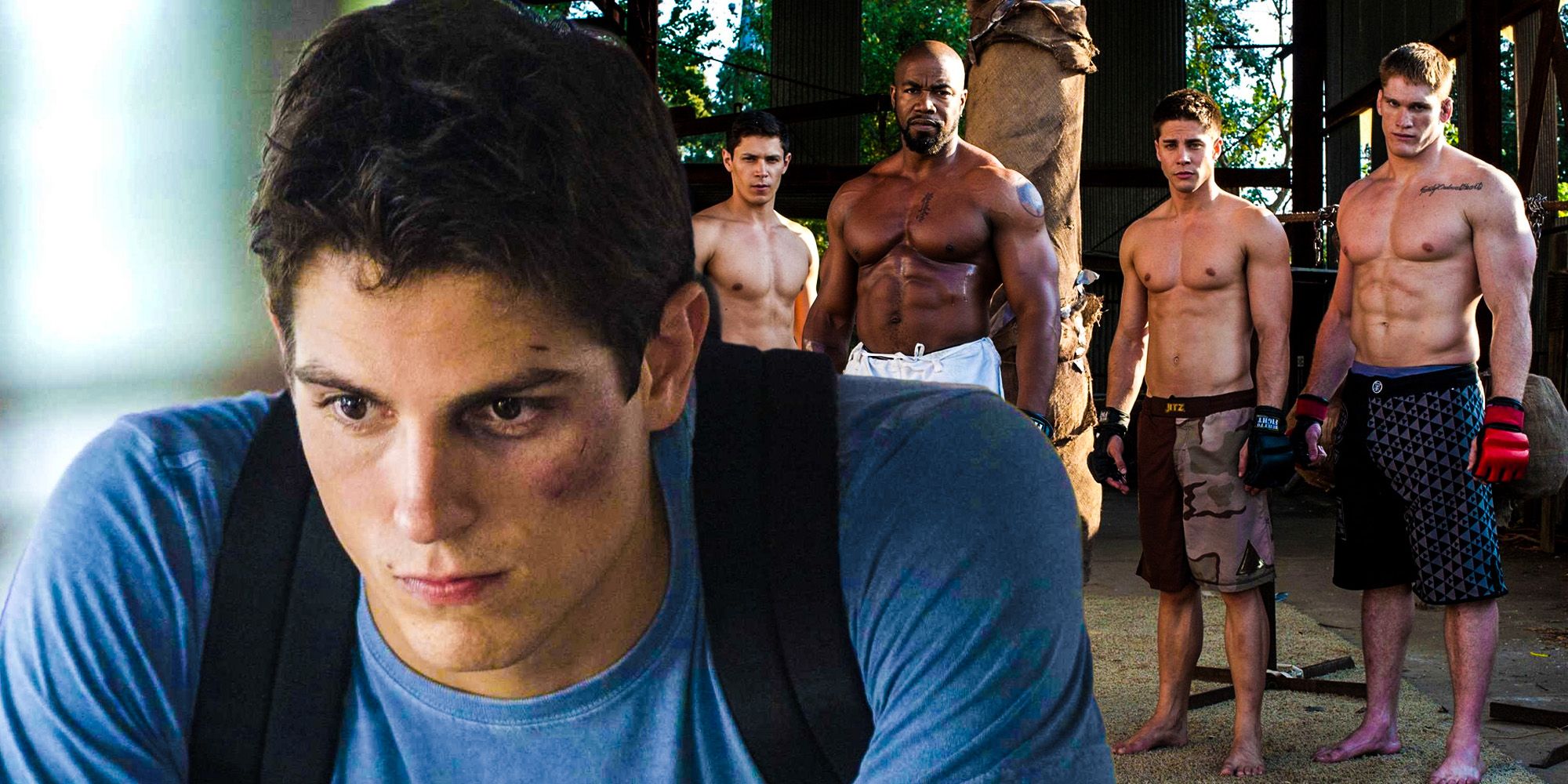 The Never Back Down franchise has grown into a beloved martial arts movie series, but how do the movies rank? With the popularity of MMA, the Never Back Down franchise first kicked off in 2008, but while the original has its virtues, particularly in Djimon Hounsou's MMA mentor performance, it didn't really set the cinema screens on fire at the time. Since then, the Never Back Down series has followed a similar path as the Undisputed franchise in really breaking out with its straight-to-video sequel Never Back Down 2: The Beatdown under the direction of Michael Jai White.
Though Chris Hauty has returned as screenwriter for each installment of the series, the Never Back Down movies have been something of a loosely tied-together martial arts anthology, with a handful of elements and characters continuing from one movie to the next as each tells its own story. The fourth film in the series Never Back Down: Revolt, in particular, takes the series in a sharp new direction with filmmaker Kellie Madison directing as the series transitions to new territory.
RELATED: Cobra Kai: Martial Arts Stars Who Should Appear In Season 4
True to its title, the Never Back Down franchise is an energized MMA series that's always ready for the next Beatdown, as its grand competition of fighters is dubbed. Grabbing some real-life MMA fighters for cameos and supporting roles along the way, the franchise knows what its audience is hungry for, and has only gotten better and better at delivering it to them. Revolt also sets up the martial arts movie franchise to continue down a new road in Never Back Down 5, with the series having the freedom now to jump into more life-and-death stories with its MMA foundation always at its core. Here's how the Never Back Down series ranks, from worst to best.
4. Never Back Down
The first chapter of the series, 2008's Never Back Down, focuses on Jake Tyler (Sean Faris), a hot-tempered kid who discovers a local MMA gym run by Jean Roqua, played by Djimon Hounsou, and finds an outlet to harness his anger issues. Never Back Down is arguably more enjoyable for its training montages over its martial arts fight scenes, the latter often resembling MTV music videos shot on cell phones, while the training side of the film shows Jake's growth and the gradual control he gains over his anger. The best montage set to Red Jump Suit Apparatus' "False Pretense." If one is old enough, Never Back Down is frankly a little chilling in parts, with the kids relishing the chance to humiliate each other with their phone cameras. Evan Peters balances some of that out as Jake's friend Max Cooperman, an MMA fanatic who introduces Jake to Roqua's gym and brings along some of the charm of his portrayal of Quicksilver.
Djimon Hounsou is easily the highlight of the whole movie as the sage-like Roqua, emphatically insisting that his students not fight outside of the gym, providing Jake just the guidance that the young loose canon needs, and embodying a genuine example of a consummate mixed martial artist, heaving cinder blocks and kicking heavy bags several feet with ease. Some of his wisdom in the gym is prominently glimpsed at times in the action scenes, such as a three-punch roundhouse-kick combination he takes Jake through early in the film, and the emphasis he places on controlling one's breathing. However, the decently orchestrated fight scenes are still more raw and choppy than necessary. Never Back Down isn't the greatest MMA movie out there, but it has its moments, and Hounsou's mentor performance makes it worth a look.
3. Never Back Down: Revolt
With Never Back Down: Revolt, the Never Back Down franchise follows the trajectory of the Best of the Best series, stepping into darker and deadlier territory with its fourth chapter. After aspiring MMA fighter Aslan (Tommy Bastow) refuses to throw a fight, he puts himself and his sister Anya (Olivia Popica) in hot water and deep debt. Anya's own fighting skill impresses fight promoter Mariah (Brooke Johnston), and earns her a spot in a tournament in Rome with the promise of wiping the debt clean. Unfortunately, Anya discovers on her arrival that it's actually an underground competition where young women are kidnapped and forced to fight for betting millionaires. As the most standalone entry in the Never Back Down series, Revolt does a good job of setting the stakes high as it ventures into a story akin to the Bloodsport underground tournament franchise, especially on its low budget and the pandemic era-challenges director Kellie Madison had to coordinate the film through. Revolt feels at once the same and different from its three predecessors. While lacking the rock music-filled training montages and paced with fewer action scenes for its first two-thirds, Revolt also has a fitting sinister feel in its descent into the dark underbelly of the underground fighting world.
Former UFC champ Michael Bisping is the villainous highlight of Revolt, bringing monstrous sadism to every scene, and with Johnston's more sly sinister overseer of the tournament, both are antagonists whose comeuppance is eagerly anticipated by audiences. The MMA fights in Revolt, orchestrated by Tim Man and John Wick franchise alum Cecep Arif Rahman (who appeared opposite Amy Johnston in Madison's proof-of-concept short The Gate), are fittingly harsh, though some of cast members being rookies is evident at points. Still, Madison knows how to build to a fast and powerful third act as the imprisoned fighters plot their revolt against their captors. Never Back Down: Revolt is a little bit smaller of a story than its title might suggest, but it's an entertaining underground fight flick that sets up the franchise to continue in a new direction. Martial arts fans should also watch out for stuntwoman Chloe Bruce, who snags the movie's best one-on-one fight with Phoebe Robinson-Galvin.
RELATED: Bruce Lee's Jeet Kune Do Explained (& Why It's So Different)
2. Never Back Down 2: The Beatdown
In the '90s, "straight-to-video sequel" might've been a term synonymous with "kiss of death." By 2011 however, at least when it comes to action movies, such a transition had begun to look more like an upgrade, and Never Back Down 2: The Beatdown, the directorial debut of martial arts movie veteran Michael Jai White, is certainly a shining example of that. The Beatdown focuses on four young men, respectively portrayed by Dean Geyer, Alexa Meraz, and real-life MMA fighters Todd Duffee and Scott Epstein (their fellow MMA fighter Lyoto Machida also drops in for a cameo), training under the tutelage of former MMA champ Case Walker, played by White, who also made his directorial debut with the film. The returning Evan Peters sets up connective tissue with the first movie as the always energetic Max, while the film fully invests the viewer in the each of the four main students' stories. Case's own history is also a central pillar to the film as both a one-time rising star in the MMA world and a former prisoner trying to follow the rules of his parole. While details of his past are kept more in the background, the film makes clear that his main goal is simply to start his life over, his efforts regularly exploited by some racist cops.
In both its training and fight sequences, The Beatdown fully surpasses its predecessor. Case specifically constructs each student's training around their weak points, and his instruction to Dean Geyer's Mike Stokes to punch a sheet of paper until he can puncture it with his knuckles is an ongoing challenge that the film pays off marvelously at the end. The action scenes, orchestrated by Larnell Stovall, are also outstanding, especially when the Beatdown finally arrives and the knowledge each of Case's students has gained comes into play. Though primarily a mentor, Case doesn't sit on the sidelines either, seen in a set-piece right out of a Jackie Chan movie with Case fighting off the aforementioned bad cops with both hands cuffed after being framed for a parole violation. Not unlike White's earlier involvement in Undisputed 2: Last Man Standing, Never Back Down 2: The Beatdown is the point where the MMA-centric franchise really took off, also establishing a new training montage classic with For The Taking's "Time Is Running Out" along the way in its stand-out pre-Beatdown montage.
1. Never Back Down: No Surrender
Following The Beatdown, Case Walker has made a full return to the MMA world in Never Back Down: No Surrender. The third film in the franchise sees Case agrees to travel to Thailand to help his old friend Brody James, played by real-life MMA fighter Josh Barnett, train for an upcoming fight against the merciless Ceasar Braga, played by Nathan Jones, well-known as Rictus Erectus, the son of Immortan Joe in Mad Max: Fury Road. Like a dedicated student rising through the ranks of martial arts, the Never Back Down series reaches its stride with No Surrender. White once again directs, and the spotlight is much more centered on Case this time, but he still functions as a mentor in his own story, and not just for the wayward Brody in his initially lax attitude towards the fight with Braga. Case also consistently passes his wisdom on to his fellow fighters, including some he faces in the ring, taking them aside after matches to gives them pointers, while other fighters in the Bangkok gym swiftly come to recognize his Mr. Miyagi-level martial arts wisdom. Though Case's past, including his time in prison, is mostly still kept in the background, No Surrender also pulls back the curtain just a bit on it in his scenes with the fight promotion's PR director Myca Cruz, played by White's real-life wife Gillian White. Case also still hasn't lost his natural no-nonsense mindset, seen when he swiftly admonishes a pair of younger fighters applauding his punching technique to "stop that s–t!"
No Surrender goes into even greater depth in both its action and training scenes, merging both in one of the best action scenes of the whole series when Case faces a cocky opponent in the cage, with flashes of Karate "bunkai," followed by Case implementing each technique for real. Being filmed and set in Thailand, the country's national legend Tony Jaa cameos in No Surrender as himself, while the film also pulls in both Chocolate's Jeeja Yanin as female gym fighter, with Stephen "The Fight Professor" Quadros also appearing as one of the gym's trainers, Matty Ramos. The behind-the-scenes machinations for Brody's fight with Braga eventually pulls in Case when his past is dug into, but being the intellectual fighter that he is, Case shows that two can play at that game, with the movie's excellent final showdown between Case and Braga preceded by what might be one of the most penetrating and satisfying one-liner/insult combos in decades. With fantastic action and training scenes, Michael Jai White's on-screen strengths that he brings to both the director's chair and the role of Case Walker, and the sharpest writing of the franchise to date, Never Back Down: No Surrender is both the pinnacle of the Never Back Down series and the embodiment of its subtitle. With the franchise now having introduced higher stakes than ever with Never Back Down: Revolt, one can only wonder how it will continue to build upon that. Nonetheless, the Never Back Down series will surely remain popular with martial arts movie fans, and Never Back Down: Surrender carries the crown of its best installment.
NEXT: Donnie Yen's Mixed Martial Arts Movies Ranked, Worst To Best
King Shark's Bodysuit Looks Ridiculous In The Suicide Squad BTS Image
About The Author
Every Never Back Down Martial Arts Movie Ranked (Including Revolt)
https://screenrant.com/never-back-down-martial-arts-trilogy-ranked/ Every Never Back Down Martial Arts Movie Ranked (Including Revolt)
Movie Download Downloader Netflix How Movie Download Free App Free Hd App Sites From Youtube Sites Free Hd Apk Website Online Best Site Bollywood In Hindi Website New Best App Utorrent By Utorrent Movie Download Google