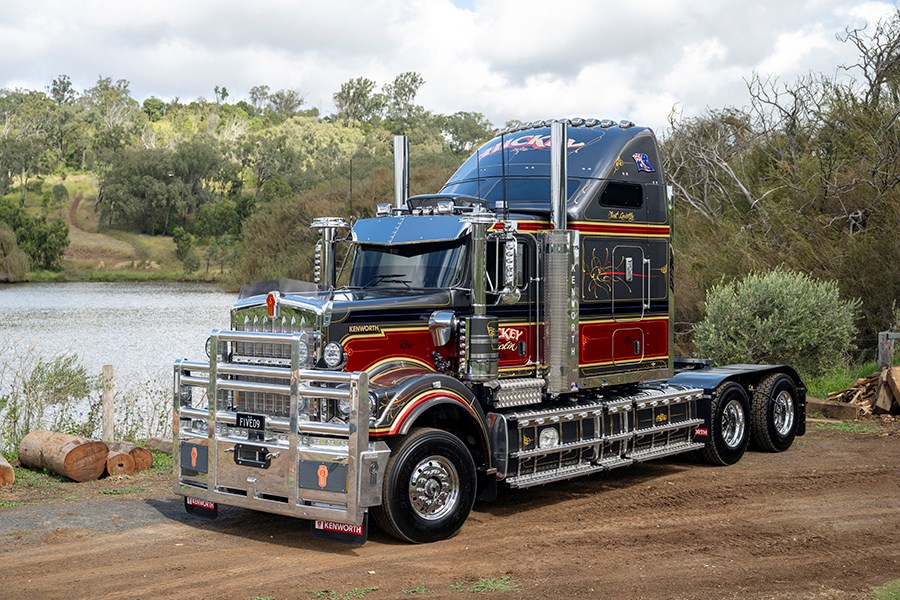 ---
JUNE TRUCK OF THE MONTH: Andrew Hickey has tried his hand at various vocations and a variety of truck brands before ultimately settling on his dream truck – a Kenworth C509. And, just quietly, Andrew is over the moon since trading in his two Macks for his new, customised rig.
It was an early morning arrival at Brown and Hurley Toowoomba to meet Andrew Hickey and his new Kenworth C509. It wasn't going to be an 'over a beer' kind of catchup, but it did mean I got to observe the big 509 garnering plenty of attention as it sat waiting for us to take it out for photos.
The awning of Brown & Hurley's Toowoomba office is a regular spot for those wanting to catch sight of some pretty cool trucks and Andrew's C509 just raises the bar even further. It was almost a shame we had to move it to go and get photos. Almost.
Before anyone picks up on the fact I didn't get out and get many working shots of this big girl. Let me clarify, it will work. It will work bloody hard, too. It will no doubt end up working in some of the toughest areas of this great country. That's exactly what it's been built for, it's exactly why the standard Kenworth bunk was ripped out and the whole sleeper was customised by Icepack Services.
Andrew's truck has been set up so he can pack up and disappear on the road for six hours or six months – whatever is needed. Therefore, I had to catch this truck quick because its first load could see him in the Northern Territory for a couple of weeks. I couldn't wait that long!
My lack of patience, especially when it comes to eye catching trucks, means I snapped this immaculate example of Aussie engineering before it had its first load. It will have it soon, though; that I can guarantee. This truck has been built to keep up with Andrew, its owner. He's a man not afraid to get in and get his hands dirty.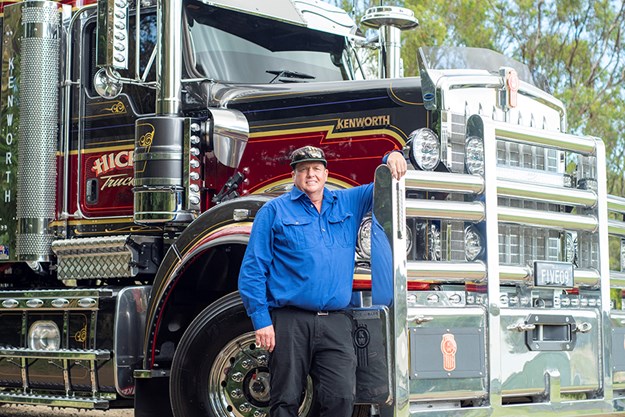 Andrew Hickey quite rightfully stands proudly with his new C509. The end result was exactly how he had been envisioning it in his head and heart. It's a showstopping working rig
Growing up on a farm, Andrew is not afraid of digging in. He went out working for himself in 1987 after he bought a 1978 SAR tipper and, with a dog in tow, started doing contract work for McMahons contracting out of Alice Springs. It didn't take long for his work ethic to be noticed and work increased. Before his 30th birthday, Andrew had added an R-model Mack to the fleet and then a Mack Super-Liner.
The three-truck fleet worked throughout Western Australia and Darwin for McMahons, again doing road construction, mining, civil work. All the clean, easy jobs.
After the big floods of 1991, Andrew found himself back in Queensland, carting for the Winton and Jericho Shires during the rebuild phase. It was here that the opportunity came to challenge himself once again with something new.
As would be the trait with Andrew, he looked to find clean, easy work (there's a high level of sarcasm in that sentence in case you missed it). Andrew went from tipping work to carting livestock, which is even harder work and more crap, quite literally. I'm talking trailers and trailers of crap. This change in direction came about in 1993, when Andrew sold off the SAR and the R-model and purchased Peninsula Freighters in Georgetown, Far North Queensland. The purchase netted him a Mack Valueliner and a Mercedes-Benz as well as several stock trailers.
"The Mercedes was fairly well worn," Andrew recalls, going on to shiver a little as he tried to describe the state of it. He adds that it wasn't really a selling point when trying to recruit drivers.
"Yeah, I was having trouble getting men, so I decided to trade in my two Macks and get one good truck."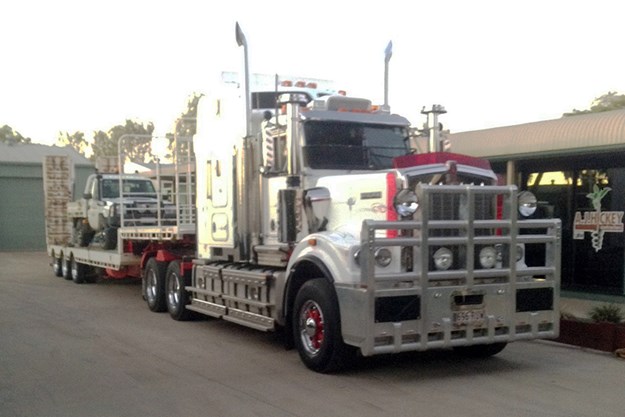 The C509 wasn't the first big bonnet on Andrew's books. This solid looking C508 was his pride and joy when he was running the drilling outfit. Photo courtesy Andrew Hickey
The move into purchasing his first brand new truck wasn't an easy step. It also wasn't one that Andrew took lightly.
"I looked at what Charlie Hudson was doing with his C5s and K series, and the Spicers and all that stuff. We were doing identical work and I took note of all of that," Andrew explains.
With that in mind he found his way into the Brown & Hurley yard in Townsville, fully equipped to trade in his two Macks and spec up a new C501. A couple of hours later the paperwork was signed and Andrew had his first brand new truck – a 1995 T950. Wait, what? Yep, Andrew went in to get a C5 and walked out with a T950.
Big ideas
As I mentioned earlier, Andrew is very much an old school bloke. He's grown up with old school values and attitude, which is obvious when he explained a vital ingredient of his success.
"Don't think you know everything. Listen to the right people, the people who know what they are talking about," Andrew says. He adds that sometimes it's best to "listen and shut your mouth".
Those attributes saw his plans change in that Brown & Hurley office all those years ago. He listened to the salesman and learnt what would work for his company. That's why his big ideas of a C5 were transformed into a T950.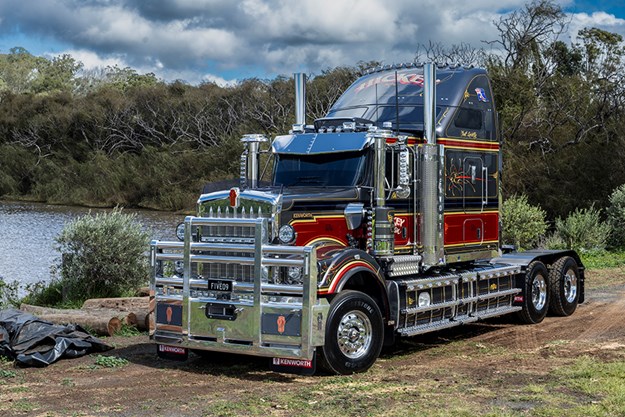 That's not to say it wasn't all smooth sailing with his first brand new truck, especially seeing as the T950s had the new electronic engines in them. There were definitely a few gremlins, but in Andrew's opinion the Townsville team really stepped up and helped forge his loyalty to the Kenworth brand.
"Brown & Hurley were right there for me," Andrew recalls. "Where I was working, the gulf country, it's hard country. Hard on gear and hard on men. But Brown & Hurley were right behind me."
The bond he formed with not just the Townsville Brown & Hurley crew but also the Kenworth brand saw him add several more Kenworths to his fleet as it expanded. By the time Andrew sold up Hickeys Livestock in 2002 there was almost the entire Kenworth gamut spread among the fleet including, finally, a big C501.
Before we eventually get back to the awesome C509 I do have to mention another little Andrew story. I shouldn't say 'little' as it was a major event in the rise of Hickey Livestock. If you thought heading into a sales office to buy a C501 and walking out with a T950 was a bit of a detour, how about walking into a transport yard to buy a second-hand stock trailer and walking out with the transport company? That's exactly what happened to Andrew.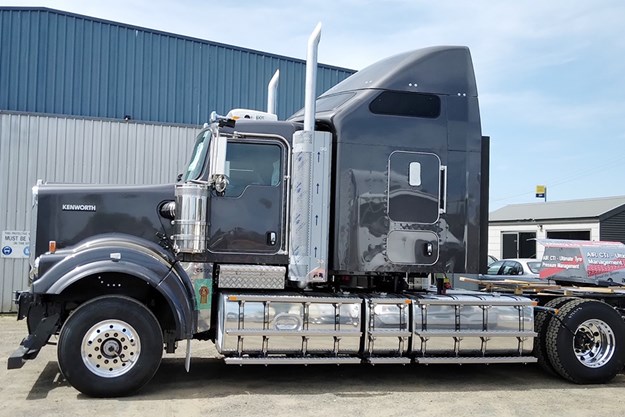 'Just Quietly' has come a long way from when Andrew first saw it in the AIR CTI shed, getting the premium system installed. Photo courtesy Andrew Hickey
In 1998, with Peninsula Freighters going strong, Andrew stopped in at McIvor's Transport in Charters Towers to purchase a second-hand stock trailer. While there the idea was broached: "How about you buy the whole lot?" That was three trucks – Kenworth SARs – and about 12 trailers with close to 30 decks. Once again Andrew sought the advice of those around him, looked at all the facts and figure and backed himself. "I made the decision. Sorting it out was the bank's problem after that," he jokes.
The purchase of McIvor's saw the disappearance of the Peninsula Freighters name and the emergence of Hickey Livestock. The company moved millions of animals around some of the toughest country Australia has. Andrew was always there alongside the other drivers, never shying away from the work.
In 2002, he sold up and sought to chase a new challenge. He chose to become a farmer.
"It wasn't an easy choice to sell," Andrew admits.
"I'd taken it from two trucks to seven triples. I get very attached; the company was a part of me."
Selling it to his good friends at Curley Cattle Transport helped ease that loss, though.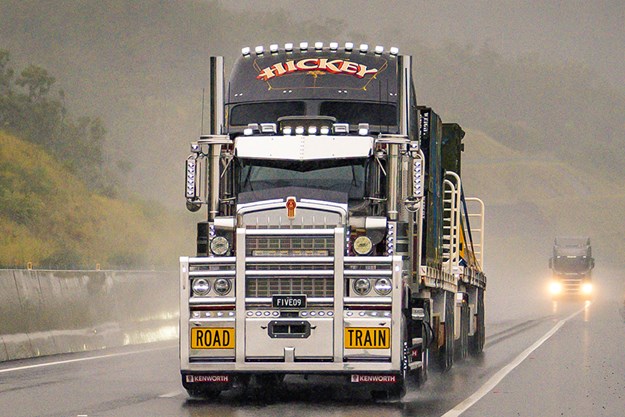 Even in the worst possible conditions for taking photos, Andrews stunning C509 quietly goes about it's business of looking good and earning its keep
From the tough conditions of Australia's cape, Andrew bought a farm down near Pittsworth and proceeded to become one of Australia's most successful Parthenium hysterophorus farmers. Before you reach for your phone to google that, it was my way of trying to put lipstick on a pig, trying to dress up Andrew's own admission.
"All I grew was weeds!" Andrew admits.
"I actually asked an agronomist if I was planting my seeds upside down because they definitely weren't growing up. That's when he told me it was time to get out of farming."
Again, Andrew listened to the right people. He had spent around seven years trying his hand at farming with no luck. Being a successful weed farmer in Queensland is not the same as being a successful weed farmer in Amsterdam or California. On to the next challenge for Andrew – let's try digging holes.
With his Toyota ute and a Bobcat in tow, Andrew started cleaning up drilling sites. Just small jobs that lead to bigger jobs, then bigger jobs with bigger equipment, then bigger jobs with drilling rigs. Next thing you know, it's seven years later and Andrew has five drilling rigs, 15 trucks, 80-plus employees and a highly successful new business.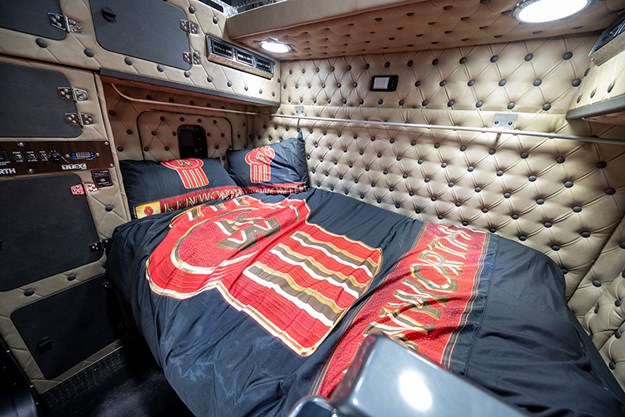 Andrew Hickey has more than enough in-cab add-ons to hibernate for the winter
By this stage in his working life Andrew has had more than a few 21st birthdays under his belt and is looking to get back to the things he enjoys –- trucking. Andrew sold up the drilling business and bought himself a second-hand T908 to get back on the road.
"I was a bit too old to go back to livestock. If I hurt myself it'll take a fair bit longer for recovery," Andrew admits. "So I bought some tippers and started doing grain and stuff."
The lifestyle didn't really suit him and instead he ended up focusing on more flattop and general freight work. His connections ensured that he had plenty to do to keep him and his one truck operation busy.
This brings us up to a couple of years ago. When Andrew started contemplating the final truck he would buy, he wanted something special.
"I had a vision in my head of what I wanted, something that represents the last 40-odd years in transport," Andrew says. The problem was how to get it out of his head and onto the road. Step up Angus Short, one of Toowoomba's Brown & Hurley salesman and, as Andrew puts it, "a very patient man!".
"It got to the point when I walked into the office Angus would say, 'OK, what are we buying today?'. My plans just kept changing."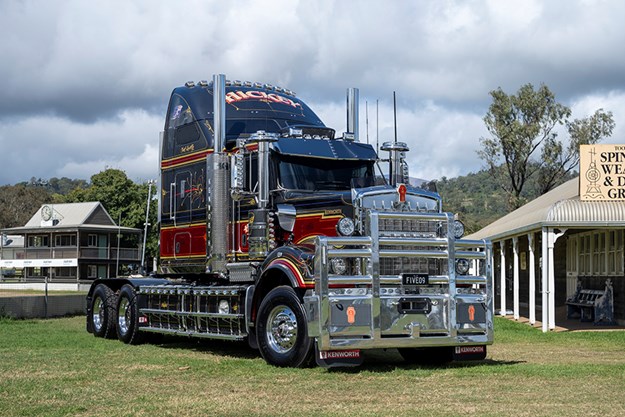 Eventually, in March last year, a C509 was locked in. Andrew knew he would be all over Australia and in every possible environment, so he needed something durable, capable and reliable.
It also needed to be something he could live in for long periods of time so the 60-inch (152cm) bunk was an automatic choice.
The problem for Andrew was he just didn't feel the standard Kenworth setup would suit his needs. He went to visit Tom O'Neil and the boys at Icepack Service in Toowoomba and explained his situation. The team then set about fulfilling Andrew's requirements. The standard Kenworth King single bed was kept but out came all the rest.
All new cupboards were designed and build, a 3,000W invertor was fitted, TV microwave, dual roll out 40-litre fridges – there's even a drawer fridge under the passenger seat. Everything was done to keep a balanced, contained look.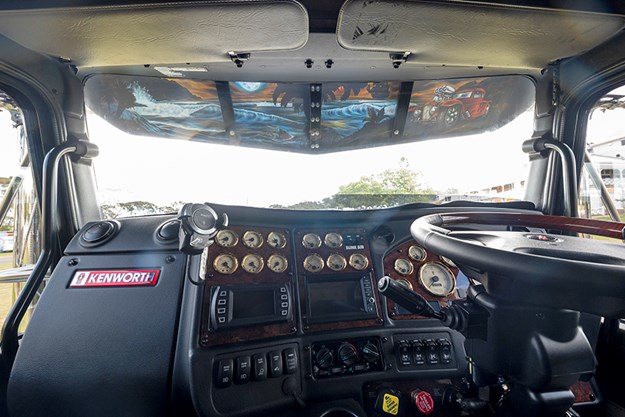 Instead of a blank visor,, Zealous Airbrushing stepped it up another level in Andrew's opinion with this feature piece.
Closed cupboards were the preferred look for Andrew, with the addition of a very deep shelf above the cupboards. Let's not forget there's also a couple of large lockers underneath the bed as well.
Icepack Services didn't just stop with the interior, on the outside of the truck you will find a fold-out table with an electrical outlet inside the dogbox so Andrew can set up his electric hot plates and cook a decent healthy meal when he's on the road. For those days he's out in the middle of nowhere and covered in red dirt, he has a shower fitted as well.
After all the useful additions, Icepack Services got stuck into making the truck look amazing with added lights, road train guards, plenty of stainless, all of it complemented by the big King Bar on the front.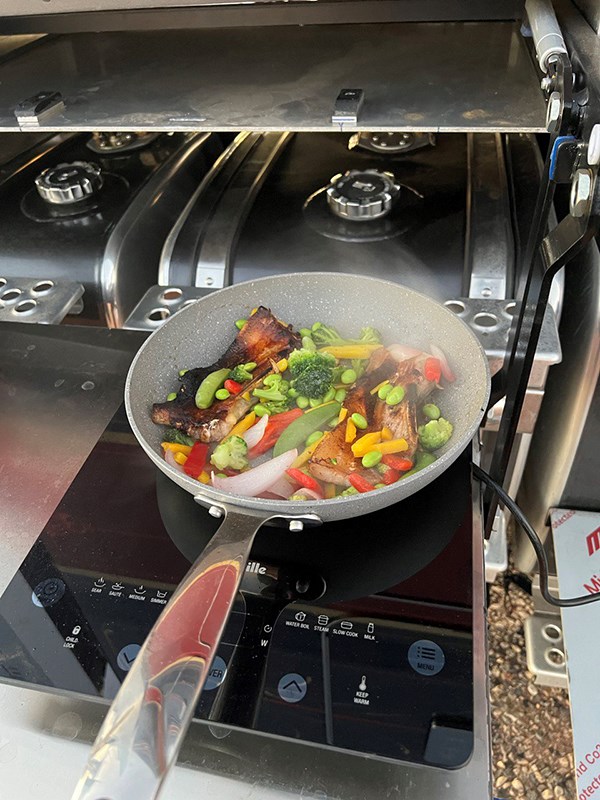 Icepack Services handy little fold out kitchen table allows Andrew to plug in his hotplate and cook up a good feed when he's out bush
Another cool feature of Andrew's pride and joy is the addition of the Air CTI system. Once again, Andrew sat and listened to the right people when he was investigating a tyre air system that would assist him with the variety of terrain the C509 would encounter.
Talking to the right people led him to Air CTI in Morwell, Victoria, which fitted its top-of-the-line system to Andrew's truck. The Air CTI system allows for real time monitoring of tyre pressures and real time adjustments.
"It's bloody good," Andrew says. "It's got a loaded setting, empty setting and off-road setting. So you can just push A, B or C then each of those can be adjusted as well.
"If you are on a crap road you can drop 10psi out of the drives … piece of cake. It makes it easier on the load and looks after the gear better."
Andrew also explains how it is constantly monitoring every tyre so, if he does get a slow leak, he knows about it well before he sees mudguards and tyre tread flying out the side of the truck.
Old school look
Now onto the finished look of this big C509. Andrew knew how he wanted the truck to roll out, he had a vision in his head. Getting that vision out of his head though was a whole different issue.
A visit to Tony Gibbs at Truck Writers in Caboolture changed everything for Andrew.
"Tony said he wanted to do the whole thing, give him a blank canvas and he'd get my ideas to work," he says.
Step one for Tony was to enlist his son, Damian, to help. Damian Gibbs runs Masterart Design studios and specialises in custom jobs.
"I knew I wanted an old school look with modern colours. I also wanted that Seminole design," Andrew explains.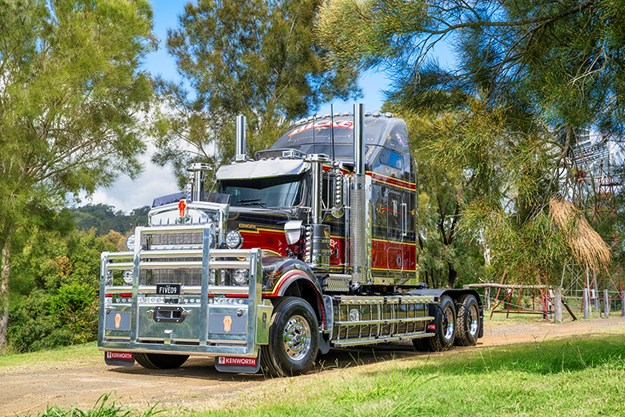 "When I sat down with Damian he just got it. We talked and he was able to get the ideas out of my head. He nailed it."
It sounds so easy when I write it out like that but the whole job was far from it. Damian estimates nearly 100 hours were put into the truck, just from his end.
"It's not standard run-of-the-mill paint we used either. We used the cherry stuff that's normally used only on custom Harleys and stuff," Damian explains.
I also questioned Damian about his ability to extricate his customers' thoughts so accurately.
"I guess that's part of my job. No one really just comes in and says 'I want this, this and this'. I need to get in their head to see how they see it."
Andrew is the first to attest that Damian did exactly that with the C509. While Damian was working his magic, he also brought in Damian Gormley from Zealous Airbrush, who set about airbrushing a couple of stunning art pieces on the big 509. All Andrew had said was he loved the old school big boats, he loved hot rods, loved the beach and he wanted not just the back wall but also the inside of the drop visor done.
Once again, Andrew was blown away by how spot on Damian #2 had also nailed it. Then it was just a trip up to Caboolture where Tony Gibbs, the scroll savant, worked his magic and … voila, a 10/10 C509!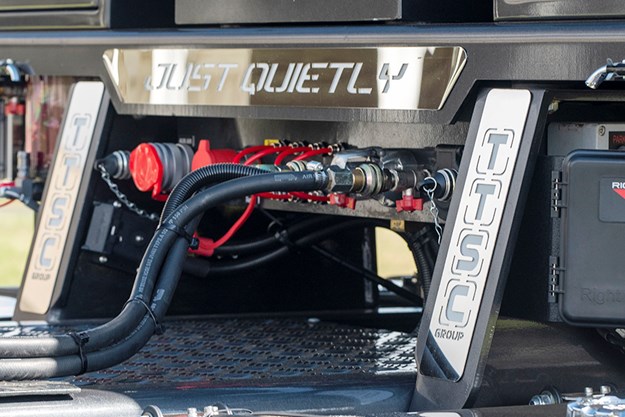 The finishing touches from Icepack Services really tops this work of art off nicely
Wrapping up I think we should focus on the irony of the trucks name – 'Just Quietly'. I'm sure you've spotted it on the side of this grand work of automotive art. Andrew has spent his life just quietly going about his business. He has always taken pride in his gear and taken pride in the relationships he has built with his customers and his workmates. His iconic Aussie attributes of quiet determination and chasing challenges have seen him succeed in his endeavours.
He hasn't chased attention; he couldn't spell Instagram yet alone log on to it. Hell, I'm pretty sure his cell phone only makes calls and plays Tetris. He just quietly potters along in the background.
This truck is the cumulation of all those years of quietly getting the job done. While he may still shy away, he is happy for the credit to fall on all of those that made his vision come to life. From his long-suffering salesman Angus Short to all the boys at Icepack Services and the father and son Gibbs team. All their work has painted a picture worth more than a thousand words – just quietly!
For more on Andrew Hickey's stunning Kenworth C509, see the June 2022 edition of OwnerDriver magazine.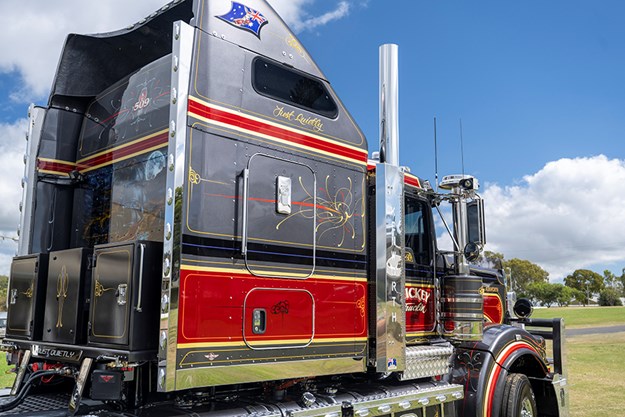 Subscribe to our newsletter
Sign up to receive the Owner Driver e-newsletter, digital magazine and other offers we choose to share with you straight to your inbox
You can also follow our updates by liking us on Facebook. 

Trucks For Hire | Forklifts For Hire | Cranes For Hire | Generators For Hire | Transportable Buildings For Hire


Kenworth C509 raises the bar
http://www.ownerdriver.com.au/industry-news/2206/kenworth-c509-raises-the-bar/ Kenworth C509 raises the bar