Games
RPS Advent Calendar 2020, December 24th
Finally, we've reached the last door of the RPS Advent Calendar. Behind this is this year's game, and what do you know? It was a tough trip to get here. We have experienced several different areas. Many beasts and a few family friends attacked us. Oddly, our dad didn't support the whole thing. But what do you know? I feel like the real benefits await behind the door 24 …
That is … Hades!
Imogen: At this time of last year, I snuggled up to my parents' house and blasted Hades' orchid while still in Early Access. It's crazy to think that this gorgeous mythical roguelike game wasn't complete at the time. Each run I completed encountered a sneaky joke about Zagreus's fate and how I had to wait a bit longer to find the rest of his story … and it reached 1.0 release this summer, and Zagreus I found what it was, I was looking for it, and I cried a little.
I don't think roguelike games have been so emotionally invested in me. Zagreus is a very nice boy with one goal of escaping from hell. But his journey is intertwined with many other journeys, and there are far more emotions out there than I had imagined. It stimulates so many determinations to complete all the runs – not only to know more about this mysterious ending, but also the Super Giants you've been chasing for a long time, they created Get hooked on every aspect of the world.
Even now, I can't stop it since I finished the main story. Hades does not end in the best possible way. For some reason, I still have a lot to hear from all my Chthonic colleagues. When Eurydice doesn't invite me to eat a bite at Asphodel, I personally feel attacked. Or when my husband, Death Incarnate, doesn't stop at Tartarus to help me defeat some misery.
I think the little stories you meet in Hades are very compelling because storytelling is built into the gameplay. I don't think this is the case in many games. My favorite example of this is one of Hades' boss battles. After tons of runs, these particular bosses began to change their tone during the pre-brawl bunter. I didn't really think about it at the time, but after a few runs, it became clear that the character arc and move set had been resolved. Permanently changed Reflect that. And they killed me almost immediately! I was so used to their old sequences that it surprised me properly. Naturally, I came back straight to find them and fight again.
Hades' ability to continue to surprise and encourage is different from the roguelike games I played. Even if you fail to run, you will still be rewarded for the fun interaction between the wonderful characters who have returned to the Underworld mansion. Hades makes failure fun and makes success incredibly exciting. Please play this game.
Ed: I like Hades. Because I like to run through the door that gives me loot to a room that is more likely to give me more loot. I'm a big fan of Binding Of Isaac. Because you kill things in the room, choose a door, and want to have loot on the other side of the chosen door. I'm a power-up eater.
Hades is also very good at making you feel powerful. As you go through the run, you'll see Olympus gods like, "You can use lightning to bring that shield, right?" We are happy to accept the offer, but not before we slip into the awkward and very well-spoken "companion" to close the deal. You can't really shake the feeling that the character you play, Zagreus, is basically Robert Pattinson.
Eventually, the load of power to play off each other will cause you to dash and slice here and there. One of my best runs was with a big sword, which gave the enemy a stack of Doom on every hit, so a little later all these stacks got together and it was like the annoyance I slashed. Mini core of the thing.
I also respect the fact that Hades is not terribly difficult and is not afraid to give a little treat to your efforts. Eventually, the mysterious run with the sword was over, but after that, I felt a certain sense of accomplishment instead of sobbing vaguely. You could even go back to the cozy world of hubs and give your friends the Prezi you found while running, spend money on items, and try out new unlocked spears. Kor, many options!
Even when my eyes are in danger of collapsing, I have a lot of Hades and I put that "only one" feeling in my brain. I think it's because it's a roguelike game that's excited to see you move forward, rather than cheering for your death.
Alice Bee: I think my favorite about Hades (except that it's literally the only great roguelike game ever) is that everyone who plays it has a favorite god out of the Pantheon. I will. As Ed says, they all offer you slightly different benefits, and as a result, everyone prefers to stack up to get the right attack or passive ability for that primo to run through the underworld. I have a combination.
So you will see some favorite gods you pray for repeatedly in the early stages of your run, and some other gods you don't care about but aren't your best There is.I'm an Artemis / Poseidon girl lately, that is, I don't say number To Ares or Apollo.
In this way, the Super Giant was able to make us all worshipers of the ancient Greek gods. This is a way to imagine what people were actually in the past. We're all like, "Yes, thank you Artemis. Give me some sweet critical stacking damage!"But likewise, we expect it as well, as execution can succeed or be interrupted with one roll of hell dice. Absent Encounter certain gods. "Please, Please There is no Dionysus, or – what a mess, Zeus. I can't tell me that someone in ancient Athens has basically never said the exact sentence before. Time is a circle.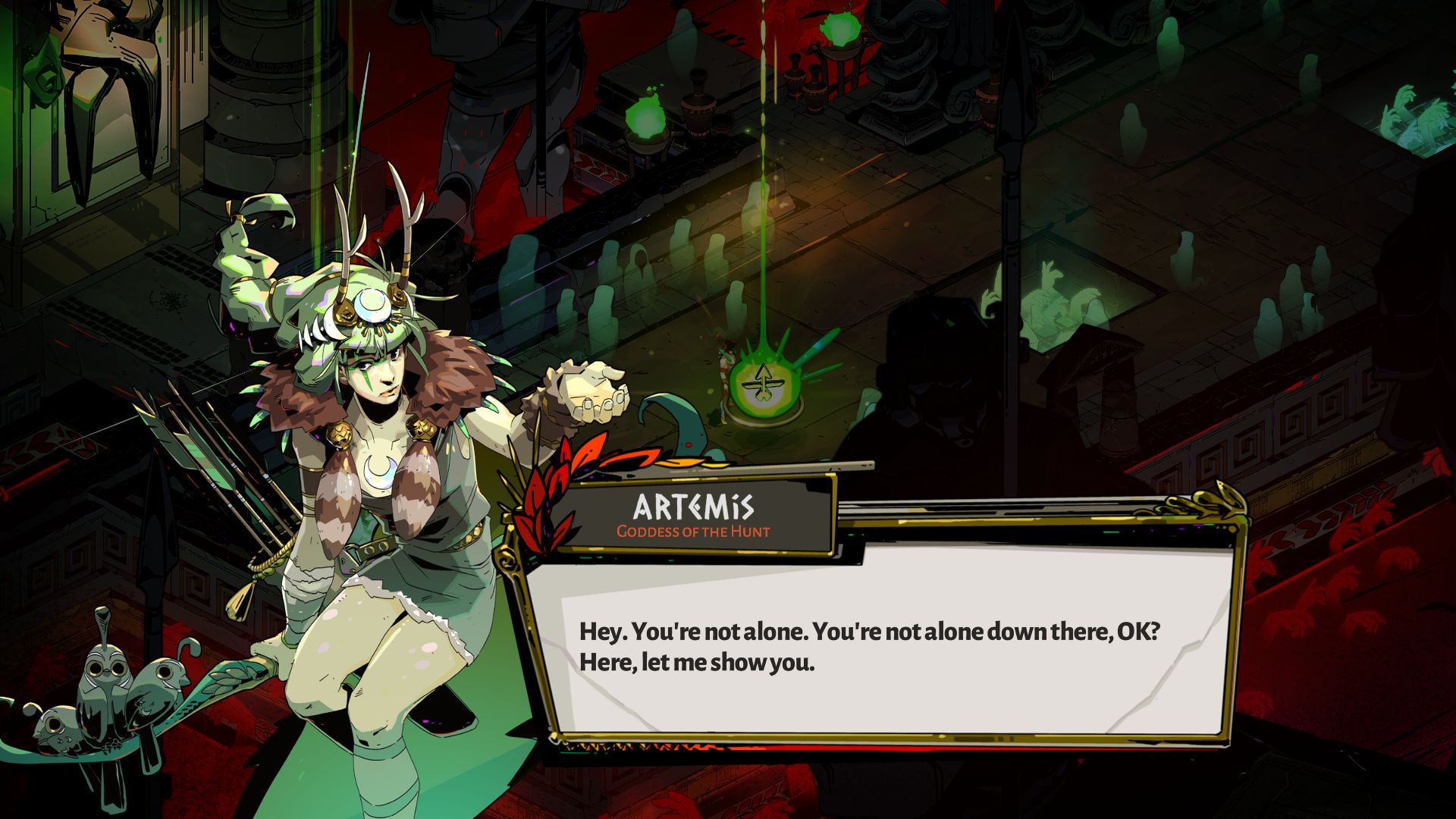 Alice0: I haven't played Hades yet, but I appreciate everyone's beautiful, creative, entertaining and horny fan art. Thank you for drawing. Keep up the good work.
James: What can you say about Hades? Every time I think it's over, the game keeps pulling me back. If you haven't read it yet, stop reading it and play. Even the most intense anti-roguelike people I know have come to this genre. Amazing efforts of this year's Super Giant.
When I play games, I naturally look for screenshot-enabled moments as an absolute content hound. Those lines you can send to a friend and say "haha, that's what you'll say", or the beautiful scenery, and everything in between. Well, Hades is absolutely full of those moments. Save a bit of disk space from a frivolous chat with Meg, an interesting glossary of Achilles in Codex, and a hand-drawn view overlooking the plains of Elysium. You will press the PRTSCR button quite often.
"Nevertheless, if you need to recommend one game offered in 2020, it must be Hades."

However, the moment when screenshots are possible is not a game. Hades has all the rest. The game just sits there, a huge array of characters, I'll never forget in a hurry, some great songs to keep pushing you through the depths of the underworld, and I'm the sharpest , I've experienced some of the most responsive actions.
The way the story unfolds several times is something I've never seen before, and I feel that every line of conversation (all in a good voice) is relevant to your current situation. The method is very impressive. I haven't heard the chat repeat. You'll have to complete a few runs to get a "complete" story, but the variety of weapons you can choose from doesn't feel like a chore. An option to raise your ante and make things harder on your own.
If possible, treat this Christmas yourself. Nevertheless, if you need to recommend one game offered in 2020, it must be Hades. The Super Giant completely destroyed it in Hades, and I don't think it can reveal everything this game has to offer for a long time.
CallManager: Super giant games have played a big role in my career writing about games. For one, I wrote an undergraduate treatise on Bastion and Transistors. And when Hades was announced at the 2018 Game Awards (and released in Early Access at the same time), I only worked for RPS for three days, so while growing in that role, RPS grows. I was able to see. Whenever I write about super giant games, I'm very happy.
Hades lacks the punch of the emotional story of other Super Giant games, but at the same time, it can't be seen as anything other than their best writing to date. Before Hades, I couldn't even imagine how to build an effective story within a roguelike framework with permadeath and metaprogression. Super giants have always done a great job of combining mechanics and narratives to enhance both, but Hades is their masterpiece.
Even if there is no story at all, it will be difficult to defeat Hades. It's an incredibly beautiful, sophisticated and satisfying experience and check out all the boxes of what I'm looking for in roguelike games. But that's because of the story I feel I can never be completely satisfied with other roguelike games anymore. I want a lighter moment to talk to the character and learn its motives and worries. Please understand that I keep dying and come back to the beginning. Every time I meet them, I want to know the individuality behind each boss battle. Hades has ruined me something fierce.
function appendCarbon() { !function(a,l,b,c,k,s,t,g,A){a.CustomerConnectAnalytics=k,a[k]=a[k]||function(){ (a[k].q=a[k].q||[]).push(arguments)},g=l.createElement(b),A=l.getElementsByTagName(b)[0], g.type="text/javascript",g.async=!0,g.src=c+"?id="+s+"&parentId="+t,A.parentNode.insertBefore(g,A) }(window,document,"script","//carbon-cdn.ccgateway.net/script","cca",window.location.hostname,"04d6b31292"); }
function runMormont() { var s = document.createElement('script'); s.type="text/javascript"; s.async = true; s.onload = function() { triggerMormont() }; s.src="https://cdn.gamer-network.net/2018/scripts/mormont/v2.23.0/mormont.js"; document.getElementsByTagName('head')[0].appendChild(s); }
function runSAK() { var s = document.createElement('script'); s.type="text/javascript"; s.async = true; s.src="https://sak.userreport.com/gamer-network/launcher.js"; s.id = 'userreport-launcher-script'; document.getElementsByTagName('head')[0].appendChild(s); }
function runSkimlinks() { var s = document.createElement('script'); s.type="text/javascript"; s.async = true; s.src="https://s.skimresources.com/js/87431X1560958.skimlinks.js"; document.getElementsByTagName('head')[0].appendChild(s); }
function youtubeParser(url){ var regExp = /^.*((youtu.be/)|(v/)|(/u/w/)|(embed/)|(watch?))??v?=?([^#&?]*).*/; var match = url.match(regExp); return (match&&match[7].length==11)? match[7] : false; }
function runBBMVS() {
jQuery('article main iframe').each(function(){ src = jQuery(this).attr('src'); if(src) { check_yt = youtubeParser(src); if(check_yt){ jQuery(this).attr('id', 'yt-' + check_yt); jQuery(this).attr('data-yt-id', check_yt); jQuery(this).addClass('yt-embed'); } } }); var promises = []; jQuery('article main iframe.yt-embed').each(function() { check_yt = jQuery(this).attr('data-yt-id'); (function(replace_yt) { promises.push(jQuery.getJSON( "https://gamernetwork.bbvms.com/json/search?query=%22" + replace_yt + "%22&context=all", function( data ) { if(typeof data['items'][0] !== 'undefined' && typeof data['items'][0].id !== 'undefined') { yt_video = jQuery('#yt-' + replace_yt); jQuery(yt_video).attr('data-bbvms-id', data['items'][0]['id']); }; })); })(check_yt); }); Promise.all(promises).then(function( data ) { first_yt = true; jQuery("[data-bbvms-id]").each(function() { yt_video_wrapper = jQuery(this).parent(); if(first_yt) { playout_id = 'rock_paper_shotgun_autoplay'; first_yt = false; } else { playout_id = 'rock_paper_shotgun'; } jQuery(yt_video_wrapper).after('
'); jQuery (yt_video_wrapper) .remove ();});});} function runFacebookPixel () {! function (f, b, e, v, n, t, s) {if (f.fbq) return; n = f.fbq = function () {n.callMethod? n.callMethod.apply (n, arguments): n.queue.push (arguments)}; if (! f._fbq) f._fbq = n; n.push = n; n.loaded =! 0; n.version = '2.0'; n.queue =[]t = b.createElement (e); t.async =! 0; t.src = v; s = b.getElementsByTagName (e)[0]s.parentNode.insertBefore (t, s)} (window, document,'script','// connect.facebook.net/en_US/fbevents.js'); fbq ('init', '700623604017080'); fbq ('Track','PageView');}