Sports
Set 373 by New Zealand, Pakistan 7 1/3 on stump on day 4 of 1st test – WWE Sports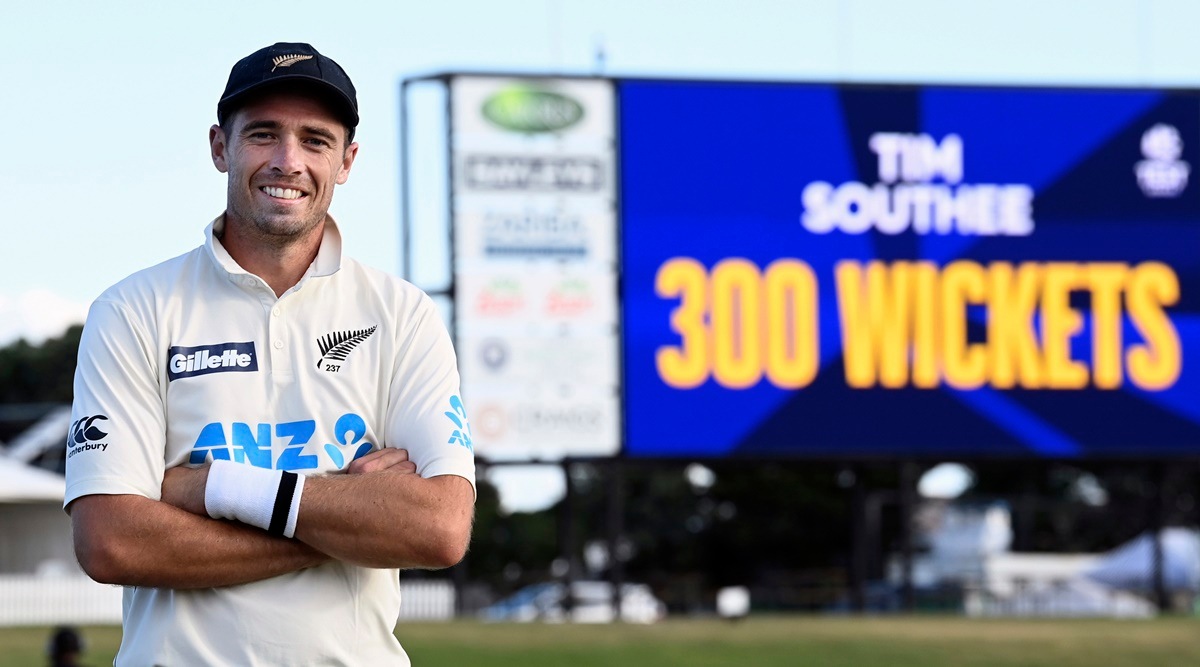 Tim Sauchy claimed the 300th test wicket on Tuesday when New Zealand approached Pakistan on the fourth day of the first cricket test.
New Zealand led 192 in the first inning and won Pakistan 373 after declaring two innings 180-5 just before tea.
Pakistan was 71-3 on the stump, but still 202 runs behind, Azhar Ali 34 did not participate and was Award Alam 21. The uninterrupted 34-run partnership between Azhar and Faward, which occupied 89 minutes before the stump, allows tourists to drop two wickets without them running on the board.
Saudi took the first Pakistani ticket gate on Tuesday and finished the day with 9 overs to 2-15.
Saudi became the third kiwi after Richard Hadlee (431) and Daniel Bettoli (361). His ticket gates averaged 28.48 times in 76 tests with a strike rate of 56.8 times.
These statistics are England A pair of James Anderson and Stuart Broad, who have 600 and 514 wickets, respectively, but have double-tested Saudi. Anderson's average is 26.7 and Broad is 27.6, both with a strike rate of about 56.
Saudi's regular new ball partner, Trent vault, The 300 wicket mark also ends. He currently has an average of 28 275 wickets.
"It's obviously a pretty cool moment (reaching 300 wickets)," Saudi said. "You are there with your peers, and some of them have clearly been there for a long time.
"I enjoyed a great moment with these guys along the way. It feels great to be there with lots of people and lots of people on the beautiful cricket ground on the fourth day."
The 32-year-old Saudi has many more ticket gates.
"I like test cricket and want to play as long as possible," he said. "I don't like to number it, but you see something like James Anderson and you're still working in hell at the age of 38.
"As long as you can continue to perform at the level you need, you're retired for a long time. I don't know why to number it."
New Zealand started two innings at the start of play on Tuesday and bowled Pakistan 239 in response to the first inning of 431 in the second half of the third day.
Openers Tom Brandel and Tom Latham posted half a century in the first wicket partnership of 111 runs that put New Zealand on track for the declaration.Brandel made 64, Latham 53, and the pair scored more than 3 runs per over, allowing the captain. Kane Williamson Declared before tea, there are about 136 overs left in the match.
Williamson did not play 21, Henry Nicoles 11, BJ Watling 5, and Rosstaylor 12, and Mitchell Santner 6 allowed New Zealand to make a positive declaration with lively innings.
The decision to pull out with 5 overs before lunch was substantiated when Vault and Sauzy each requested a wicket before the break.
Vault had Wicketkeeper BJ Watling catch Avid Ally from the second ball of the first over. It was Watling's 250th test catch. Saudi left Pakistan 2-0, removing Shan Masoud on the next overs that Ross Taylor caught on a slip.
Saudi's 300th wicket came when Harris Sohel was caught by Mitchell Santner with a short additional cover after batting for 69 minutes on 9 runs. Azhar and Fawad worked hard for the rest of the day.
Saudi and Vault will be back on Wednesday with the chance to finish their work and give New Zealand their third straight test win in the summer after winning consecutive innings in the West Indies. Neil Wagner continues bowling despite two toe breaks during the second day of batting.

– WWE Sports

Set 373 by New Zealand, Pakistan 7 1/3 on stump on day 4 of 1st test
https://indianexpress.com/article/sports/cricket/set-373-by-new-zealand-pakistan-71-3-at-stumps-on-day-4-1st-test-7124853/ Set 373 by New Zealand, Pakistan 7 1/3 on stump on day 4 of 1st test