Games
The first chapter of Spellbreak adds 72 new quests and 50 reward tiers. Here is the complete patch note.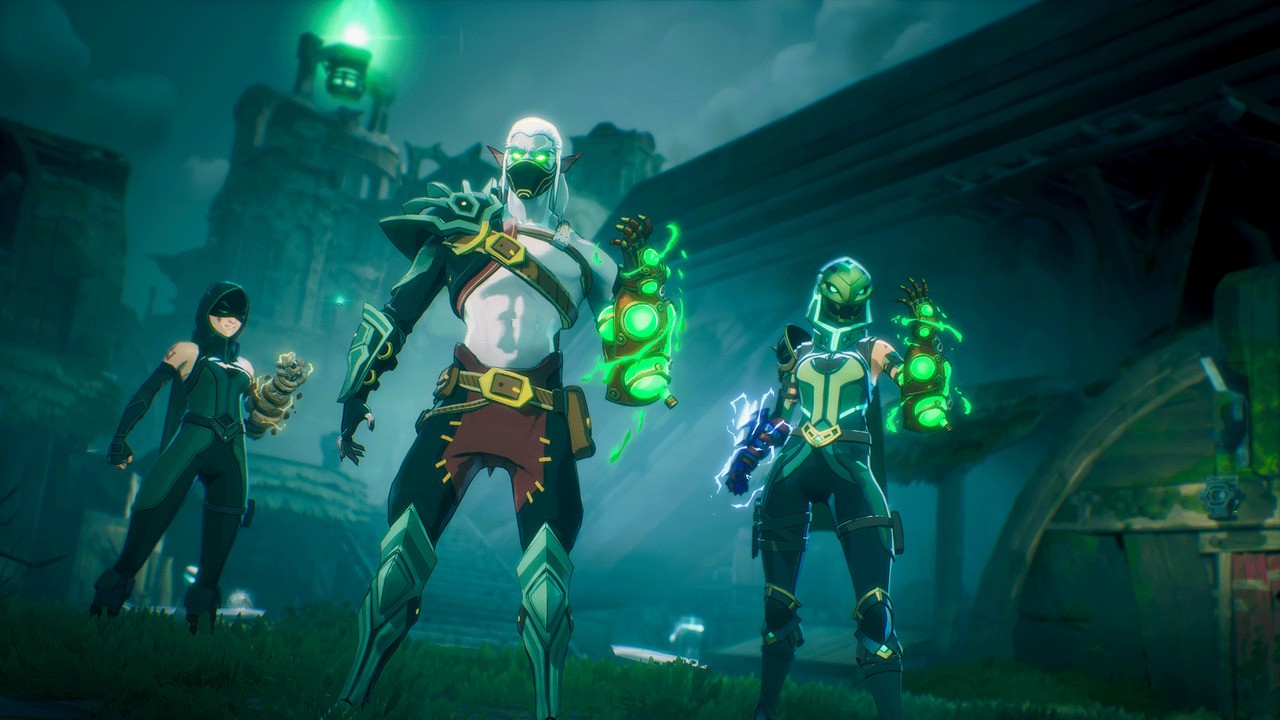 Today, we are releasing a new chapter system for Spellbreak, a proletarian fantasy battle royale game where players cast spells on the battlefield.
The first chapter is called "Chapter 1: Spell Storm" and introduces quite a few changes that will definitely confuse things. As it's released today, check out the entire patch notes below to see everything.
Chapter system
Chapter 1 introduces 72 new stories and honor quests, 50 levels of rewards, and stories that delve into the origins of spell storms.
Meet NPCs outside the game, solve mysteries, and direct quests.
During the course of this chapter, the world itself will be updated with some new gameplay elements as the story unfolds …
The core story quests are completely free for everyone, but honor quests require a chapter pass.
There are three ways to get a chapter pass:

For 1000 gold, you can unlock the chapter pass with a 25% bonus on the chapter's reputation. It's important to us that we don't have to pay real money to experience the whole story. Therefore, we always strive to offer options that can be purchased in gold.
There is also a spell slinger bundle. This includes a chapter pass with a 50% bonus, a gold bag, and a Steelie Id spell slinger outfit.
Finally, there is the Warlock bundle. This includes Chapter Passes with 100% Bonus, Gold Pile, Steely Eyed Spellslinger and Sinister Warlock costumes.
Daily quest
We made some pretty big changes because we wanted to make our daily quests more meaningful and provide players with a stable source of income …
Daily quests are staged in terms of rarity, each earning 5/10/20 gold.
The number of daily quests has also been added, changed and removed.
UI
The cue timer now counts up instead of down.
Added main menu notifications for the following actions to the friends menu.

Party invitation
New friends by accepted request
friend request

Quests are now displayed in the in-game tab menu.
Players can now completely disable controller vibration in the settings menu.
If you leave the match early after the player has been banished, the match experience screen will now be displayed.
world
Deadmoss has been completely redesigned to include the new Castle Bogmore, Deadmoss Canals, Slums, Dreadcurtain and more.
The saw pile has been redesigned to make it easier to cross.

I heard there were some fights in the mountains at the end of the match, so I made this much easier to avoid.

Added POI for Fernfall Garrison, Cloister and Wayfarer's Crossing
We've added a variety of sound effects, depending on the type of surface the player is passing through.
collision
If one team outperforms the other by 20 points or more, the crash match ends with a mercy ruling.

It's not great to be on the losing side in runaway games, so this should end those games faster.

The score required to win a match is now updated based on the number of people remaining in the game.

If people are down, the score will drop accordingly.

Vital Stones are now properly revived once each time they respawn.
Fixed some instances where armor shards could appear on the ground in a crash.
Amulets should always give mana when respawning Clash.
Fixed a bug where players would get an assist each time their opponent was exiled, even if the player did damage only once throughout the match.
The scoreboard at the end of the match is no longer accidentally automatically skipped after a few seconds.
Fixed a bug where the player couldn't exit the match end screen with the controller.
Other gameplay
Unfortunately, a bug was found in Updraft after submitting the build, so the boost is now less than it was in 1.2. It will be fixed in a future release. sorry!
Healing talent heals 35% of the damage received (down from 50%).

For some time, recovery was the main choice and we wanted to reduce it. Hopefully this makes room for other talents / builds.

Shadowstep runes once again slow down.

This is an unintended change in 1.2 and certain builds / classes are getting too powerful. We'll also look at these classes, but we didn't want to change them if historically they weren't really a problem.

When upgrading to a higher tier rarity for a rune, the cooldown for the new rune will now drop correctly immediately.
The lateral movement speed when falling from the portal has been reduced by 33%.

Prior to this change, it was possible to cover a lot of ground with the first drop. This makes portal choices less important and allows people to spread without worrying too much about their choices. I want to make the drop selection more important by slowing down the movement.
Frost bone and frost gauntlet
Frost Gauntlet Sorcery Flash Freeze has had its cooldown reduced to 15 seconds (from 20 seconds).

The cooldown of the 20s with awkward and self-centered sorceries left it as one of the weaker sorceries. A 25% reduction in cooldown will allow players to use it more often, both aggressively and defensively.

The "wall" of flash freezing has become significantly higher.

Speaking of defense, Flash Freeze barriers often allowed people to "just jump" and shoot from above.

Characters now now see the invincibility provided by the tundra skill.

Although short-lived, adding a visual element to the tundra's effect can give players on both sides of the encounter a better sense of how long it will last.

Flash Freeze has a redesigned visual.
The icicle skill also removes the mana cost of a fully charged ice lance.

We wanted to reward our players for their commitment to shots over the years.
Lightning Gauntlet
I've heard a lot of feedback that Lightning is too strong to deal with. Some feedback is centered around conduit skills, but changing them doesn't often adjust who uses it as an off-hand. We have chosen to reduce overall damage by 15-20%.
Adjusted Lightning Spell damage downwards:

Common: 5-7 (formerly 6-8)
Unusual: 6-8 (formerly 6-10)
Rare: 6-9 (formerly 7-11)
Epic: 7-9 (formerly 8-11)
Legend: 7-10 (formerly 9-12)
Stone gauntlet
Stone's Shockwave spell is one of the most damaging spells in the game, and "Just Jump" is a popular meme / counter, but it doesn't work well and is heavily punished without much reliance. There are many situations where you can be. Therefore, we have made some changes to the behavior of Shockwave at the edge.
Slightly reduced the maximum height of the ground that Shockwave damages.

It's often difficult to tell if you've been hit hard or if there's a factor such as latency, but by lowering the height that can cause damage, you can jump as described above without chunking your foot. Should be easy to do. ..

Shockwave now reduces damage within range. The reduction starts at 25m and reduces to 50% damage reduction at maximum distance (40m).

Shockwave wasn't meant to be a "poke" tool, but it's often used as one. We'll leave that ability alone, but by reducing damage over longer distances, it's even more possible to reward beyond stone users.

Fixed an issue where Shockwave going up and down the slope could hit a player who was too high on the ground. This is primarily to match the visual with reality, so obviously it won't hit while you're on it.
Pyromancer
Some Pyro are very powerful, which are very popular at all levels of play, while others are very active, especially for more skilled players, and sometimes violently chunk someone without a rhyme or reason. Deal with both.
Increased damage falloff for Combust AOE.

Combust often felt that if they missed a shot altogether, they would still get a lot of rewards. We've made the falloff much more dramatic, so it's the same size, but you'll have to miss a narrow margin to get the same damage.

Large fires now spit out 6 small fireballs instead of 4.
A small fireball now ignites the player instead of directly damaging the player.
The small fireball no longer blocks other projectiles.
Conflag often felt like claps when it disappeared. Small fireballs often don't hit anything, and can even block subsequent shots, especially if you're trying to combine something. Increasing the amount of debris increases the chances of attacking other players, and changing them to Ignite can cause all players to attack someone at once, depending on how they move. You can avoid the "gun" effect.
Tempest and Wind Gauntlet
The interaction of the elements around Tempest and the wind has classically struggled to catch up with other classes, and we wanted to squeeze them out a bit.
A tornado of fire or poisoning adds 4 damage per second to targets in or near the base.
The electrified tornado shocks players near the base.
Squall skill becomes active Soon When the player is in the air.

This will continue to monitor as it reverts from the pre-alpha version of wayyy to a very original version of this skill, but it feels like it's working in the current meta.
Other
Many emotes have added sound and visual effects. This is an ongoing process and we plan to add more in a future release.
switch
Fixed a bug that could cause airplane mode to be turned on and interrupt navigation when the player was loading into the main menu.
Fixed a bug where sound effects wouldn't play when opening a chest or mana vault.
Fixed a bug where music would stop during the match start countdown.
Bug fixes for all platforms
The Buy button is now properly disabled when purchasing all items in a bundle individually.
Fixed a bug that could cause the wrong UI to be displayed while watching another team.
Fixed a bug where players could hear but not see the participating players after trying to join a full party.
Fixed a bug where the health number was not displayed when the armor bar was empty.
If the content rolls over while logged in, the player does not have to log in again.
Fixed a bug where you couldn't enter the talent selection again when first opened in the controller and after each match.
Manabar no longer displays correctly when activating Chronomaster runes.
If you hold down "Yes" while creating an account and return at the same time, the game will no longer become unresponsive.
If you lose your internet connection while the game is starting, the loading screen will no longer be displayed indefinitely.
Fixed a bug where the Mage Rank icon could appear black on the Mastery rewards screen until the player changed something in the collection menu.
Torrential rains no longer disappear from the collection menu preview.
Players will need to receive XP again at the end of the match if they are watching someone expelling them.
Vitalstone talent VFX no longer deviates from the character model when being observed by other players.
Fixed some issues when picking up items.
Sound effects no longer continue to play on exiled screens.
Fixed a bug where the back button didn't work at first when entering the talent selection screen immediately after launching the title
Fixed a bug where audio would play twice when VO was stopped by double-clicking the stop button on the chapter screen.
Fixed a bug where armor damage vfx would look distorted when viewed by other players.
If you are filling your armor with a stone gauntlet that has an ambidextrous talent, the armor shard consumption will be canceled and the stone gauntlet will be dropped.
And, of course, there are a lot of rare crashes on all platforms.
---
that is Lots Of change.
When we first played Spellbreak for review in September, we enjoyed our time at Spellbreak, but felt it was a bit lacking and in some places uninspired. We hope this new improvement will give you the boost you need.
Do you want to play spellbreak? Do these sound like welcome changes to you? Feel free to send us your feedback in the comments section.
https://www.nintendolife.com/news/2020/12/spellbreaks_first_chapter_adds_72_new_quests_and_50_reward_tiers_here_are_the_full_patch_notes