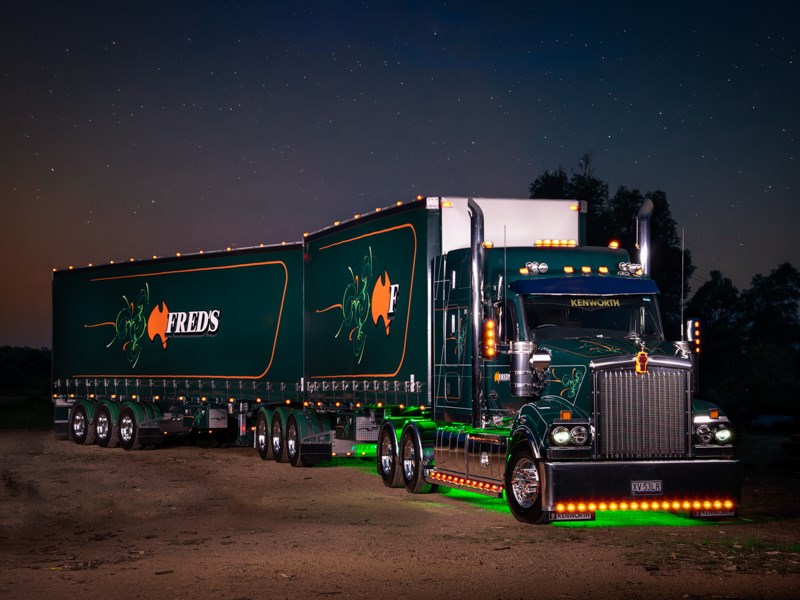 ---
Amid all the talk about truck driving apprenticeships, James Hadley is proof that receiving the correct advice and training is not only the ideal path to a successful career in road transport but, in this case, receiving the keys to a sparkling clean and comfortable Kenworth T610
Tell me and I forget. Teach me and I remember. Involve me and I learn" – Benjamin Franklin. It's a pretty deep and philosophical way to start my first story of the new year.
Bear with me though folks, I'm not just trying to impress you with inspiring quotes, there is method in my madness. This quote by Benjamin Franklin who, along with being known as one of the founding fathers of the country responsible for extremely long, low, cool trucks (the United States), he was also the inventor of swim fins and bifocals. None of that is really that important. The point of the quote is that it sums up the young man behind the wheel of the Fred's Transport Kenworth T610 you see before you – James Hadley.
James has quite literally grown up on passenger seats here and abroad. He has been told, he has been taught but, most importantly, he has been involved in trucking his whole life, completing a 20-year apprenticeship and ending up with the keys to one of the most stunning Aussie-designed rigs on the road.
James' story really does start well before he was even a glimmer in his old man's eye. His father, Ben, who would be the catalyst and benchmark for James' trucking passion, was born with diesel in his veins.
He spent time behind the wheel of some legendary trucks for the likes of Iannelli's Transport and Constantino's. When James popped into the world, the family was based in Canberra where his dad was hauling refrigerated loads for Iannelli's.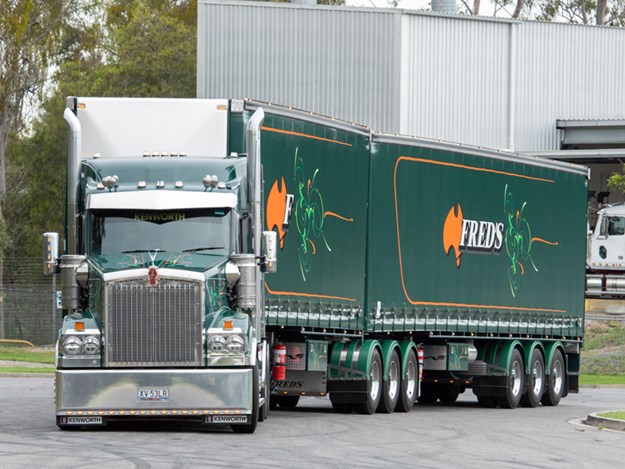 At a year old, James headed over to England. Not on his own, obviously. His mum, Barbara, had been picked to represent Australia in snooker and was there to play some tournaments. When Barbara was busy in the 'bright canary yellow' Australian jersey, James got strapped into his car seat in the passenger seat of a Scania his dad was driving on general freight.
I did try and quiz James on his evaluation of English trucking conditions and their equipment and got the unhelpful response of: "Mate, I was a baby, I don't remember shit."
After a year the family returned to Australia and Canberra for a brief stint before they all moved to the Gold Coast where Ben started working for a newly formed company, SRV Freight Lines. By now James was also a bit older and, thankfully for storytelling purposes, was able to recall a few more of his trips with dad.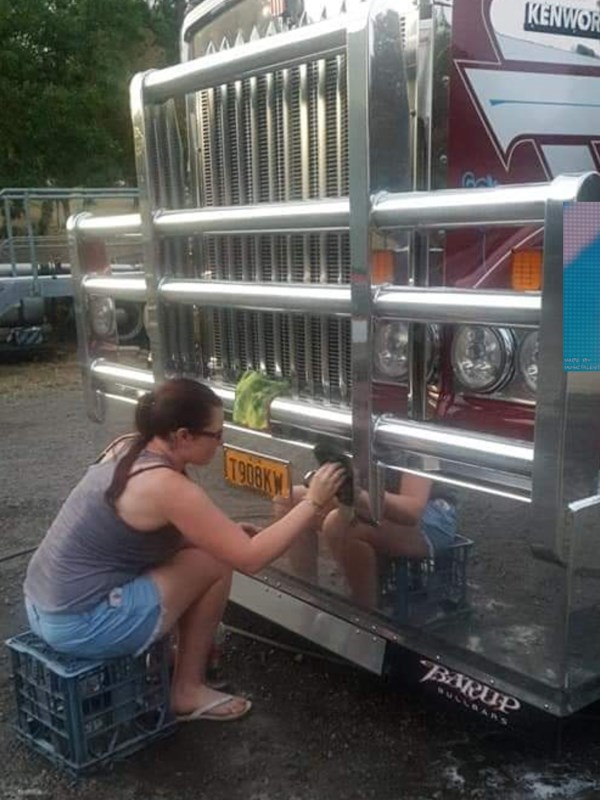 "I remember sitting in SRV's truck loading Smiths Chips and the forkies would come up alongside and give me bags of chips," James smiles.
"Dad would get back in and there would be crumbs everywhere."
Ben's work ethos and trucking passion were the original spark that ignited James. He spent as much time as he could in his dad's passenger seats, even when not invited.
"Apparently, one time, when dad was driving a Super-Liner for Constantino's, I was strapped into my seat in the sleeper. Dad recalls suddenly feeling something tugging the back of his head and found I'd got myself out and climbed over while he was driving," James says with a grin.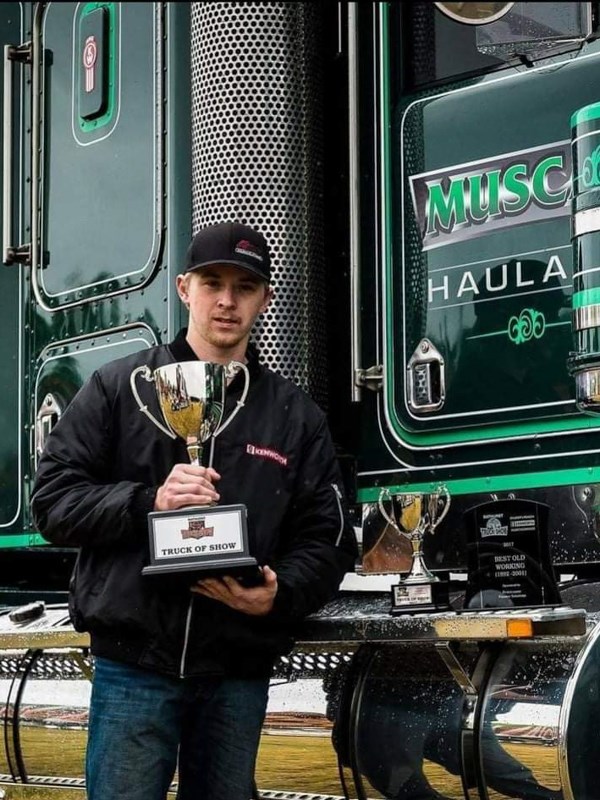 The older he got the more time he would spend with his dad in the truck. The more time he spent with his dad, the more he took in and the more involved he became. His time in the passenger seat was where he learnt not just on-road skills and attitude but how to treat the gear and look after other people's property. Regardless of what truck James's dad was in, it was looked after as if it was his own.
Seeing and assisting with this, along with a natural love of trucks, saw James follow in his father's approach.
"As a kid, it was always pulling up for your half- hour break and he'd be out with the Windex doing tanks or stacks, always out there cleaning," James says. He laughs as he recalls his dad pulling up if he knew there was rain ahead; not to avoid the rain but to get the weed sprayer out and soak the back wall with truck wash. A bit of mother nature's natural car wash.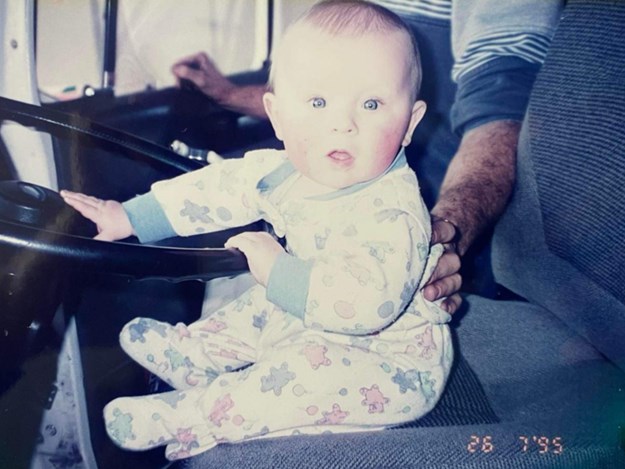 That attention to detail and insistence on keeping a clean rig has been the backbone of James's career so far. It's a lot easier to find the time and energy for that when you are driven by a passion for the industry.
Doing an unofficial apprenticeship under his dad played a huge part in getting James started. He officially started in the industry when he was the ripe old age of 12.
"Dad was doing an operations job at Midway Freight Services and I was in the yard washing the trucks," James recalls.
"They used to let me drive the trucks around bobtail to get to the wash bay."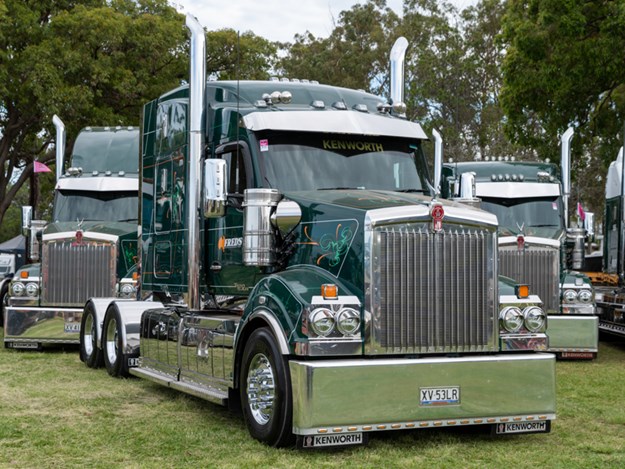 Wanting to get back on the road, Ben left Midway and started driving with Zagami Transport – and so did James, keeping the wash bay busy there as well.
It was here that James connected with one of the bosses, Darryl Dye, who played another mentoring role in the young fella's career.
"Darryl was always good to me. I did some stupid things and lost my car licence, but Darryl always stuck by me," James says.
"He'd even let me sleep in the trucks at night so I could wash them early in the morning."
Along with time on the books as the wash boy, and school, obviously, James would spend holidays in the passenger seat with Ben.
"I'd go with dad and when he pulled up for his break I'd practise backing in the parking bays," James smiles.
"Dad would spend the first couple of hours of his break going back and forth."
Tipper drives
Once James was old enough and had stopped being a typical Aussie kid long enough to hold on to his car licence, he got his HR licence. Finally, he was on his way towards a life on the road.
After years of staring out the passenger side window as Australia passed by he was finally and 'legally' getting behind the wheel and getting paid to do it. At 20-years-old, James had more experience in linehaul, loading, strapping and, of course, cleaning than most. So it was with great gusto he got licensed up and jumped straight into an
HR Fuso tipper.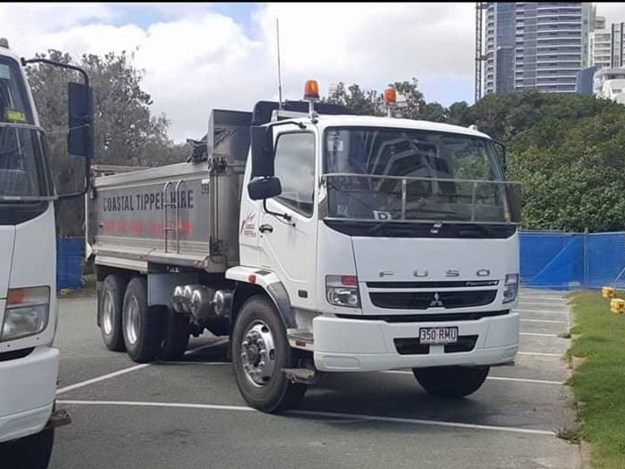 "I hated every bit of driving tippers, but you have to do what you have to do," James says. Even at that age, with a lot of real work experience behind him, James displayed a mature response to the industry.
"It's a stepping stone, washing trucks to driving them. You can't just step into the biggest and best."
Keep in mind, James already had his first B-double job lined up well before he had his licence, but he admits going for that tipper job was rather daunting.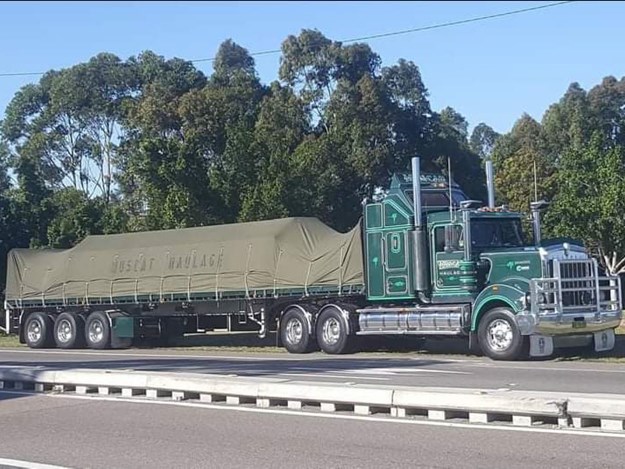 "I was still so young, probably still looked 12. The bloke that took me for the initial test drive looked at me and said, 'Nah, he doesn't have it," James recalls. However, he says that guy changed his mind well before the test drive had finished.
He spent a bit of time in the company's oldest Fuso, a battered old girl that James loved. He cleaned and polished both inside and out and treated it like gold on every job they sent him on. Those traits, that had been handed down from his dad, saw him get promoted to one of the company's newest Isuzu's fairly quickly.
James spent that year-long HR period mastering the art of 'round town tipping work but his heart was always on the highway running, the on-road adventure.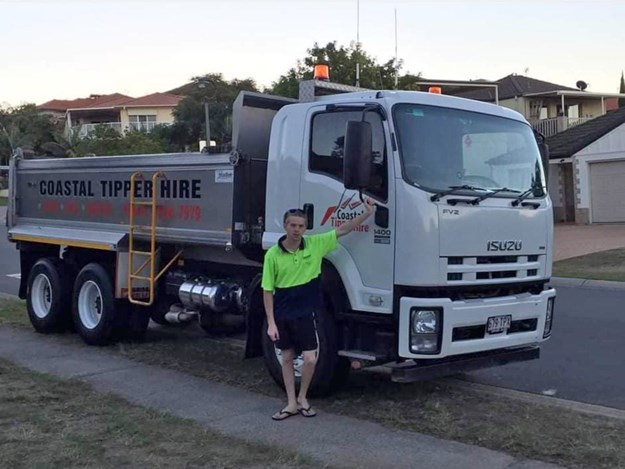 As soon as he was qualified for his MC, James left the Gold Coast and headed to the New South Wales town of Yass to work alongside his dad at Adelaide Refrigerated. His B-double licence arrived and, before the ink was dry on it, James was into a Freightliner Argosy and doing his first solo B-double run from Yass to Sydney.
"It was an awesome experience because Dad was right behind me."
Although his dad was in a 730hp (540kW) Scania, so I doubt he stayed behind James for long.
The time at Adelaide Refrigerated was another massive learning curve for James. His job was just to run the loads in and out of Sydney, doing all types of loads. The biggest challenge was the 'bag chucker' role.
"I was in all manner of trucks. They had Scanias and Freightliners but also had the big cab Aerodynes and 908s and that," he says.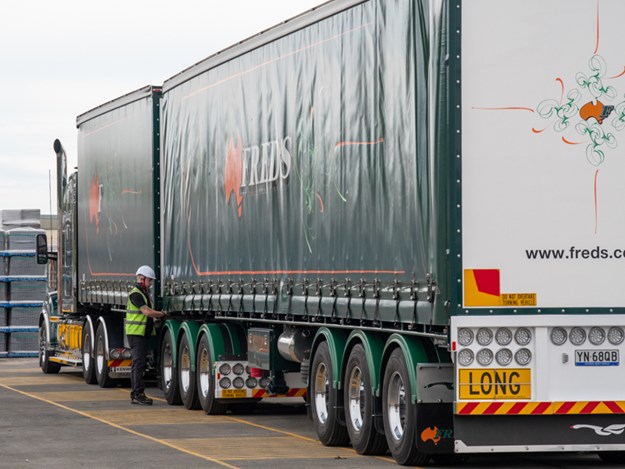 This gave James much varied experience. What didn't change was his approach to the trucks he was given. He still spent any waiting or downtime cleaning. He'd get into the Sydney yard with time to kill so he'd break out the hose.
"The bosses used to give me crap because I'd clean it when I was in the yard. Even though I was giving it back (to the regular driver) at Yass, I'd still clean it," James says.
"If the outside was okay I'd do the inside. Some blokes really appreciated it, other couldn't give a crap."
All of that was irrelevant to James. It was the pride he took in his job that mattered to him. In the end, though, it was noticed. That became evident when he was approached by Andrew Muscat of Muscat Haulage.
Learning the ropes
Now those in the industry who appreciate a good-looking truck will know the Muscat Haulage trucks. They are the epitome of working show trucks.
When James had a call for an interview early in 2017 he admits to a few nerves.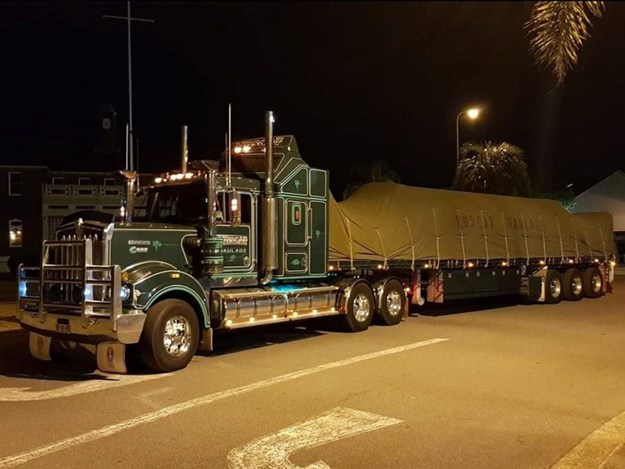 "Andrew invited me 'round for an interview, they were a bit hesitant because of my age and the insurance side of it but they offered me a job in their green 900," he recalls.
"I was very, very nervous. The first week I spent with Chris [Muscat] was learning how to load steel and tarp trailers. It was extremely new to me."
The nerves were more directly related to the loads as James' background was mainly based around gates and curtains – and a year of tipping.
The move to flattops and tarps was a big step. To do so with a company renowned for high standards can be even more daunting.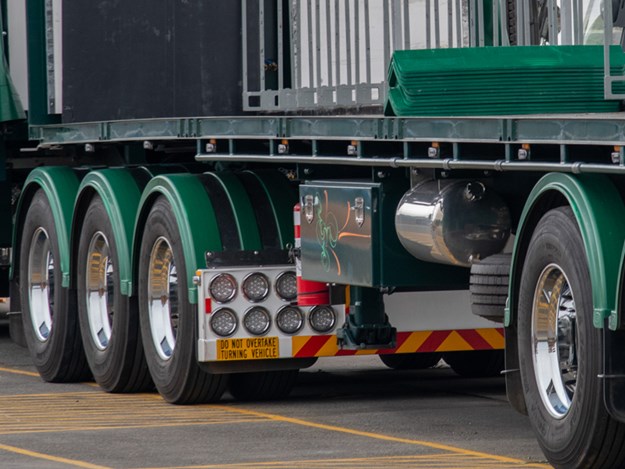 "It was a compliment," James admits, referring to the call-up from Andrew, "but I knew it would be hard work, especially with how particular they are with their gear."
James spent the next three-and-a-half years with the Muscat family, eventually getting handed the keys to a brand new Kenworth T659.
"That was a big thing for me, they are a small family company and they handed me the keys to a brand-new truck."
Having met the Muscats myself I questioned James as to whether it felt more like a homecoming when he joined the team. His level of attention to detail and desire to keep his truck in mint condition would be like finding the perfect last piece of the puzzle at Muscat Haulage.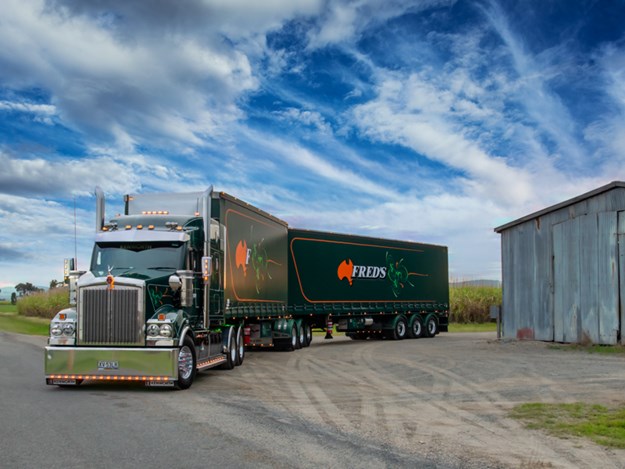 He was quick to agree, but added: "I learnt a lot from my dad, but Muscat's were next level. They have their own standards about how particular they are. They taught me
a lot about not just keeping a truck nice, but also looking after it, like not driving with your arm resting on the gearstick, being extra cautious, triple checking things and basic maintenance."
Along with gaining a lot of knowledge while working for Muscat Haulage, James also gained a lovely lady to be by his side. Those on James' social media may know Danika as the one often photographed polishing James' truck while he's posing for TikTok. Finding a lady that will tolerate a truckie's lifestyle can be a hard thing; finding one that's willing to start a family with a linehaul trucker is even harder. Unfortunately the 'F' word can often disrupt many plans; as it did for James.
"If I started a family not near my mum I wouldn't be alive to see that family," jokes James, so he handed back the keys to his beloved T659 and moved to the Gold Coast with Danika, keeping his mum very happy and giving James the chance to try his hand somewhere new.
Right said Fred
Much to my surprise, James wasn't being regularly chased down for jobs. He's young, skilled, truck mad and looks after his trucks.
"I wasn't offered a lot," he says. "Most people were told 'you won't get him away from Muscats'."
In the end, James ended up in the offices of Fred's Transport, checking to see if it had any work based around the Gold Coast. His reputation had preceded him and Fred's was more than happy to take the young fella on.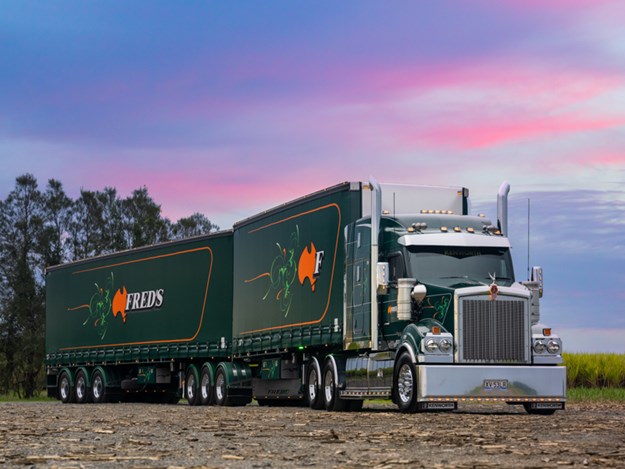 James jumped from a stunning T659 straight into a Kenworth T909. The driver happened to be away and James was given the truck to babysit before a dedicated T909 became available. While still waiting, he got put in one of the company's T610 autos.
"I love the 610, it's a great truck, so much room and comfortable," James enthuses. The 610 was only meant to be another fill-in but when a three-week-old manual became available, James's hand went up quicker than petrol prices on a long weekend. So, we arrive at the mouth-watering Kenworth T610 you see here.
Fred's Transport is one of the companies leading the way in driver appreciation, making sure it fits the trucks out to look after the guys and girls that are living in them.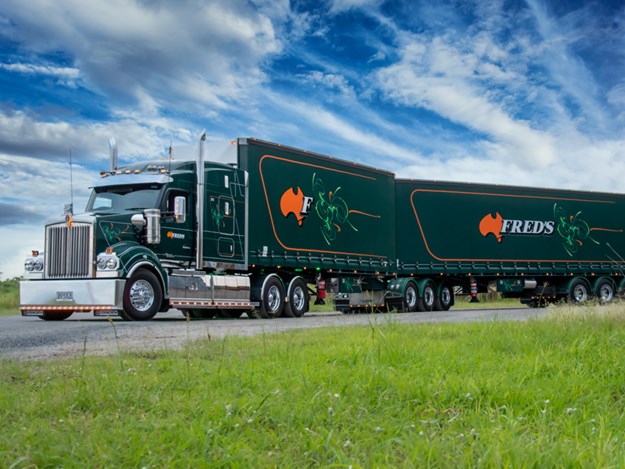 James has the big bunk version of Kenworth's T610, fitted with dual fridges, microwave, inverter, stand-up cupboards and even a TV so he doesn't miss an episode of Lego Masters. All of this with a 34-pallet B-double set sitting in tow. It's a comfortable home away from home.
Then we have the outside of the big bunk T610. Just to ensure James keeps Windex in business and making certain his fatigue breaks aren't wasted on social media, the truck has more than enough shiny bits to keep him occupied. The wrapped tanks alone can fill in a mandatory rest break.
Due to James' work ethic and pride in his ride, you could be easily convinced James parks up when it rains. You would be wrong; the truck and James work their butts off. James is away from home five to six nights a week, running predominantly Melbourne-Brisbane-Sydney, with excursions as far afield as Emerald in Central Queensland or Adelaide.
James could be labelled 'the hose whisperer'. He will find somewhere to give his rig a clean-up, even if it's just a nearby tap with his trusty bucket and sponge. Setting himself such high standards, it's simply a case of having to do it.
"Even though I'm only doing it for myself, you feel like no one notices, but the moment you don't wash your truck everyone's on the two-way commenting."
At just 26-years-old, James could be classed as young, but only on paper. He has literally grown up in the industry. Proof of that is the photo floating around of him getting his nappies changed on the fuel tank of his dad's Scania. Before you ask, it was the one in England when he was 12 months, not the Scania at Adelaide Refrigerated when he was 20. But I'd better check that.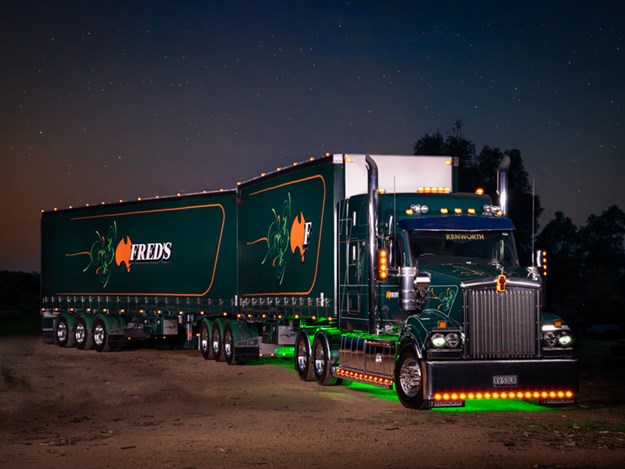 Anyway, James's passion and love for the industry has not waned. His stocks of Windex, microfibre cloths and paint polish are proof of that.
As the industry finally begins discussing the idea of an apprenticeship system, James is a testament to the product it can produce. The skills and knowledge that he has absorbed as he grew up in the passenger seat were honed and polished once he began working his way up through the ranks.
The end result is a young man with an old school attitude, a thorough respect for the industry and a passion that we need more of. A lot more.
Subscribe to our newsletter
Sign up to receive the Owner Driver e-newsletter, digital magazine and other offers we choose to share with you straight to your inbox
You can also follow our updates by liking us on Facebook. 

Trucks For Hire | Forklifts For Hire | Cranes For Hire | Generators For Hire | Transportable Buildings For Hire


TOTM Rising Through the Ranks — Kenworth T610 SAR
http://www.ownerdriver.com.au/industry-news/2201/totm-rising-through-the-ranks-kenworth-t610-sar/ TOTM Rising Through the Ranks — Kenworth T610 SAR