Games
World of Warcraft: Juggling 4 Alts to get all the loot in Shadowlands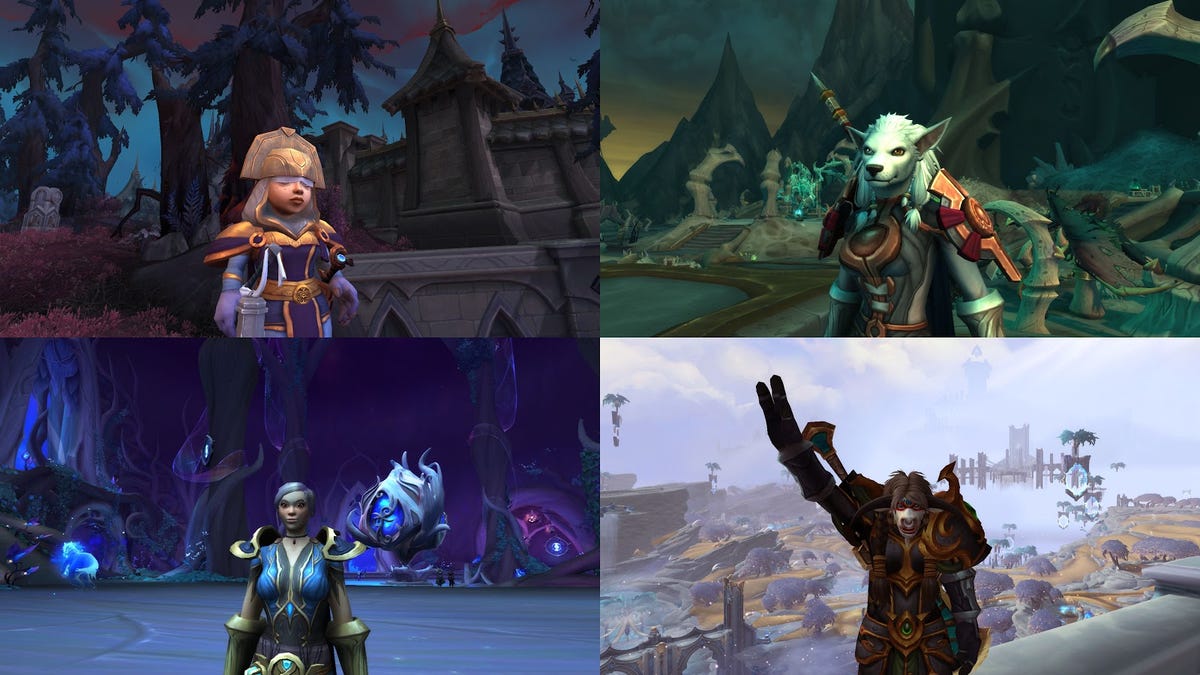 Kotaku Game Diary
Kotaku Game Diary
The latest thoughts from Kotaku staff about the game we're playing.
World of Warcraftof Shadowlands The expansion asks the player to choose one of the four covenants. Each covenant has its own theme, story, and rewards to earn. Instead of dealing with the FOMO associated with choosing only one of the four, I chose to play four characters at a time.
This is not the way I usually play World of Warcraft Expansion. Choose a single character to focus on, a choice made in the weeks leading up to the release of the extension. In a recent expansion, you've alternated between Alliance and Horde, first passing as one faction and then switching to the characters of the opposite faction to experience the other side of the story.
Shadowlands Varies. For one, there is only one side of this story. The previous extension Battle of AzerothPresented a very different campaign for conflicting factions, Shadowlands Unite all of Azeroth in a battle to balance life and death. Both get the same quest in the same zone. My character isn't fighting for the Alliance or Horde, but for life itself.
Now, what they are really fighting for is all themed merchandise that comes in as part of Nightfay, Killian, Necroroad, or Bencer. Get unique mounts, pets, armor, weapons and more. Check out what I can earn as a member of Night Fae Covenant. Look at that lovely neon pastel mount. Lil pet! They have a buggy backpack, which is very good. As an additional bonus, those who choose Nightfay will have the ability to transform into glowing blue creatures.
G / O media may receive fees
For obvious reasons, Night Fay was my first choice, but it was never an easy decision. Each agreement has its own appeal. Necrolords can create their own undead constructs. As a vampire, Venthyr can host gorgeous dinner parties and role plays. Angelic Kirian dresses in the finest Sundays and makes door-to-door canvassing, handing out literature about their perfectly legal afterlife cult. After completing a world quest to wander Shadowland as a villain of Nightfay and win factions for fairy rewards, I couldn't stop thinking about vampires, necromancers, and cult rewards.
Welp, the game's Threads of Fate system, allows players to skip the story and directly select the first completed covenant. Now there are all spies. Shadowlands Organization.
Night Fae has Quality, a human villain dedicated to getting one of the buggy backpacks. She is currently camping at a command table in the heart of the forest, waiting to see if her companions sent on timed missions have survived the latest adventures.
We planted the Wagen Druid Mongolian gerbil in the Necro Road camp. Why is a druid devoted to nature throwing himself into a covenant dedicated to the plague epidemic and corpse animation? I don't know, maybe she's hungry, she's part of the dog.
My gnome warlock, Marlock, was fascinated by the aristocratic and evil air and swore to Bencer. Perhaps she imagines the future Lady Marlock. In fact, all she wants is the shoulder wings of the Kovenant Armor Set.
Finally, there is the Toren Paladin, Salisbury, which I forgot to make. Salisbury, dressed in two extended past armor costumes, was sacrificed by Bastion's Killian. Look at her big stupid cow face. She never realizes they are cults until it's too late.
It's my four characters World of Warcraft: Shadowlands The team is gathered so that they don't feel like they're missing out on Covenant-specific merchandise and equipment. I commend Blizzard's hard-working developers for confusing me with this nonsense again.
More World of Warcraft: Shadowlands
https://kotaku.com/im-juggling-four-alts-to-get-all-the-loot-in-world-of-w-1845864162